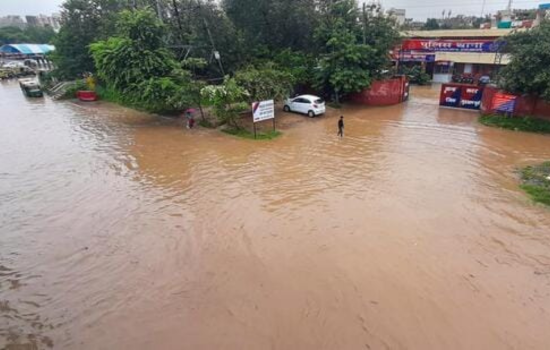 The Yamuna River, which recently witnessed its highest recorded water level in history, is gradually receding, offering some respite to the flood-affected areas in the capital city. According to the Central Water Commission, the water level is expected to reach approximately 206.72 meters by 9-11 pm tonight, although it will still remain above the danger mark of 205.33 meters. However, concerns loom as the India Meteorological Department has issued a yellow alert, predicting heavy to very heavy rainfall in Uttarakhand, Himachal Pradesh, and Uttar Pradesh over the next five days.
On Saturday morning, parts of Delhi continued to be submerged despite the receding water levels. The bustling intersection at ITO remained virtually empty, with the arterial Vikas Marg remaining flooded and closed due to a failed flow regulator, resulting in the drainage of floodwaters back into the Yamuna. The entrance to Rajghat also remained inundated. As a result, significant sections of key roads in the city have been shut down, limiting commuting options to areas such as east Delhi, Noida, and Ghaziabad.
Delhi Lieutenant Governor VK Saxena announced that the broken regulator near ITO had been fixed, expressing gratitude to the ordinary workers, soldiers, and officers of the Indian Army for their tireless efforts in sealing the bund breach and opening the gates at the ITO barrage. Chief Minister Arvind Kejriwal, acknowledging the receding water levels, emphasized that the situation would return to normalcy if heavy rains did not occur. He mentioned the initiation of water drainage from the Chandrawal and Wazirabad water treatment plants, with operations expected to resume soon.
However, weather officials from the India Meteorological Department issued a yellow alert for the weekend, warning of light to moderate rain, which could potentially exacerbate the flooding situation. With most drains already filled to capacity and lacking proper outlets, experts are concerned that the stormwater drains could overflow, leading to prolonged drainage issues across the city.
While the water level has gradually subsided since Thursday, thousands of houses in six districts—East, North East, South East, Shahdara, North, and Central—remain submerged. Major roadways, including sections of the Ring Road, Vikas Marg, and Bhairon Marg, continue to be closed due to flooding. Over 25,000 people have been rescued thus far, and temporary camps have been set up in higher areas and government buildings to provide shelter for the affected population.
Areas still grappling with floodwaters include stretches along the Ring Road near Kashmere Gate, areas behind the Red Fort, bungalows in Civil Lines, Manju Ka Tila, Monastery Market, Bela Road in the central district, and various locations in the North, North East, South East, and Shahdara districts.
As the Yamuna water level recedes gradually, authorities remain vigilant, closely monitoring the weather forecast and working to alleviate the impact of heavy rainfall. The ongoing efforts by the government and rescue teams aim to ensure the safety and well-being of the affected residents, as they continue to endure the aftermath of the historic flood.
Sources By Agencies