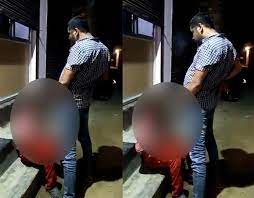 In a disturbing incident that has sparked outrage, a man named Pravesh Shukla was arrested in Madhya Pradesh after being caught on camera urinating on a tribal labourer. The incident, which took place in Sidhi district, led to widespread condemnation and calls for strict action against the perpetrator.
Late on Tuesday night, Chief Minister Shivraj Singh Chouhan ordered the invocation of the stringent National Security Act (NSA) against Pravesh Shukla in response to the online outrage. Anju Lata Patle, assistant superintendent of police in Sidhi, confirmed the arrest and stated that the accused is currently under interrogation. Further legal action will be taken in due course.
The controversy surrounding the incident deepened when Pravesh Shukla's father, Ramakant Shukla, claimed that his son is the representative of Bharatiya Janata Party (BJP) MLA Kedarnath Shukla. Ramakant Shukla expressed the belief that his son is being targeted by the opposition due to his political affiliation. However, the ruling party has denied any association between Pravesh Shukla and Kedarnath Shukla.
The Opposition Congress has seized upon the situation, alleging that the accused has ties to the BJP. Madhya Pradesh Congress President Kamal Nath demanded strict punishment for Pravesh Shukla and criticized the state's record on tribal atrocities. Meanwhile, Kedarnath Shukla distanced himself from the accused, stating that Pravesh was never his representative and that he only knew him.
The incident, captured in a viral video, shows Pravesh Shukla allegedly urinating on the tribal labourer while in an inebriated state. The video also depicts him smoking a cigarette as he carries out the act. The footage, which surfaced a week after the incident occurred, triggered widespread condemnation.
Chief Minister Shivraj Singh Chouhan took to social media, expressing his concern over the incident and instructing the administration to arrest the culprit and take strict action, including invoking the NSA.
Confirming the incident, Sidhi Superintendent of Police Ravindra Verma stated that an FIR has been registered against Pravesh Shukla under various sections, including those pertaining to using obscene language and intentional insult with the intent to provoke a breach of peace. The case has also invoked relevant sections of the Scheduled Castes and Scheduled Tribes (Prevention of Atrocities) Act.
The incident has not only brought shame to Madhya Pradesh but also reignited discussions on tribal rights and the need for more stringent measures to prevent such acts of violence and humiliation. As the investigation progresses, the state government faces the responsibility of ensuring that justice is served and that such incidents are effectively curbed.
In the wake of this incident, society at large must reflect on the urgent need for empathy, respect, and equality, while political leaders and representatives must strive to maintain the dignity and safety of all citizens, regardless of their background or social status.
Sources By Agencies