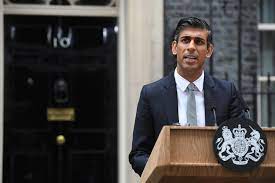 UK Prime Minister Rishi Sunak has announced that the United Kingdom will not be supplying cluster munitions to Ukraine, emphasizing the country's commitment to an international convention discouraging the use and production of such weapons. This decision comes in the wake of the Biden administration's approval of cluster munition supply to Ukraine, a move described by US President Joe Biden as a "difficult decision." Sunak has called on other nations to enhance their aid to Kyiv through alternative means.
During a statement on Saturday, Sunak highlighted that the UK, along with France and Germany, is a signatory to an international convention aimed at discouraging the use and production of cluster munitions. Notably, Russia, Ukraine, and the United States are not among the signatories to this convention.
Sunak affirmed the UK's commitment to supporting Ukraine in its conflict against Russia's "illegal and unprovoked invasion." However, he emphasized that the UK has chosen to provide assistance in the form of heavy battle tanks and, more recently, long-range weapons, rather than cluster munitions. He condemned Russia's actions as acts of barbarism that have resulted in immeasurable suffering for millions of people.
The decision by the UK Prime Minister reflects the nation's adherence to international agreements and its commitment to promoting humanitarian principles in armed conflicts. Cluster munitions are widely banned due to their indiscriminate nature and long-lasting impact on civilian populations. By refraining from supplying these weapons, the UK seeks to prioritize the protection of human lives and contribute to peaceful resolutions in conflict zones.
Instead of providing cluster munitions, Sunak is urging other countries to increase their support for Ukraine through alternative means. By encouraging greater aid contributions, the UK aims to bolster Kyiv's resilience in the face of ongoing hostilities and ensure the well-being of its citizens. Collaborative efforts from the international community can play a crucial role in providing essential humanitarian assistance, addressing the needs of affected populations, and facilitating the restoration of stability and peace.
As the conflict between Ukraine and Russia continues, diplomatic efforts, humanitarian assistance, and sustained dialogue remain vital to de-escalation and the pursuit of a peaceful resolution. The UK's stance against supplying cluster munitions serves as a reaffirmation of its commitment to international norms and humanitarian values, supporting Ukraine's aspirations for a secure and prosperous future.
Sources By Agencies