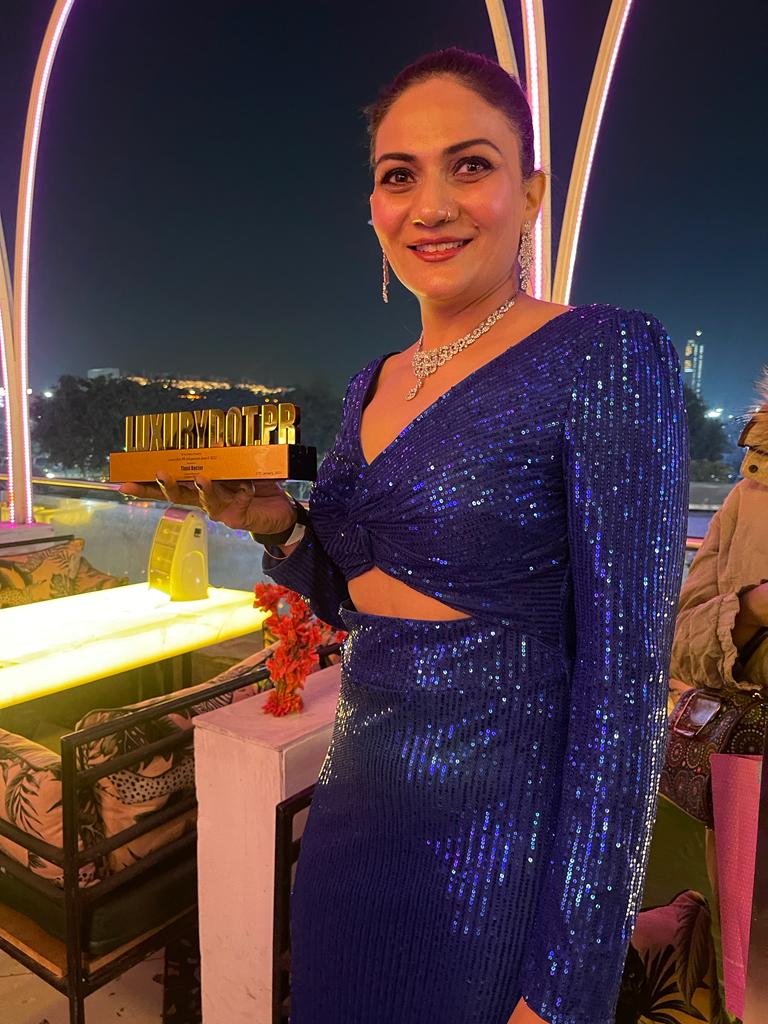 As they say "The journey of a thousand miles begins with a single step". Timsi Bector, A qualified Human Geneticist, Educationist, Nutritionist and Fitness trainer, an Internationally certified content creator has been leading a normal life. Having served as Lecturer in PG College of life sciences, Principal of Brigade School, NTT teacher Trainer, her job profile kept on changing as per the location of her husband's posting. One thing that was consistent in her life was her inclination towards health and fitness and she kept on moving in this direction, one step at a time.
Recently in The Grand Award Night organized by Luxurydot.pr by Richa Mehta (an Actor, Model, Enterpreuner) on 27th January in Delhi, many Influencers were nominated in different categories. Few shortlisted ones were invited to attend the award night where final results and winners in each category were to be announced based on merit. The Major highlights of the show were: Red carpet fashion show, look book launch, popular choice awards and Best Influencer awards. In Fitness category, Timsi Bector emerged as a winner. This event was one of its kind as it involved free registrations, nominations and winners were decided based on merit purely.
In her interview to media she said "This Award in my hands is a big responsibility towards the community that believes in me. I am grateful to my friends and family who always supported me. It's an honour to receive this level of recognition and I owe it to my community. I promise that I will keep spreading Health, Fitness and positivity." She further conveyed her regards to Luxurydot.pr and Richa Mehta for organizing such a grand event with a vision to provide a genuine platform to the Influencers who are really contributing their worth to society.
On asking about her Journey and how does she keep pace with the next generation Influencers, she describes her efforts and her life in few words as "Keep doing what you are passionate about, stay consistent and disciplined". I never do anything to gain something. People who know me can relate to it that I have been living a disciplined life throughout, never late in school, college, university, and job. Consistent with my efforts, I just have priorities set for a day and move accordingly. Having accomplished my day to day tasks, I feel at peace. I never procrastinate. I think this is now inbuilt in me as fulfilling the duties of an Army Officer's wife, mother of 2 daughters, ready for any challenge in life, I had no choice but to stay strong and disciplined. And I always preach what I practice. I never worked to gain followers, I never worked to win awards, I never train people just to gain money. I just believed in a particular lifestyle and everything kept following. Asking about her future plans and ambitions she says "I will just keep doing what I have been doing with more passion, more dedication. I obviously feel motivated but grounded. I don't have any ambitions, I have challenges in mind. I want to challenge myself daily and win over it".
This was really an Inspiration packed talk with Timsi Bector. A women at the age of 40+ creating a positive and strong new world around, challenging herself daily, fulfilling all responsibilities of a lady and contributing her real worth to not only her family and institution but also to society. We wish her more strength and Power.