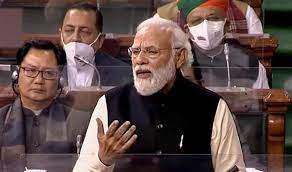 Tensions ran high in the upper house of the Indian Parliament on Thursday as a fierce 'slogan war' broke out between opposition MPs and members from the ruling party. The confrontation centered around the demand for Prime Minister Narendra Modi's statement on the ongoing Manipur issue, with both sides locking horns over the matter. The commotion unfolded even as External Affairs Minister S Jaishankar was addressing the House on foreign affairs-related topics.
Members of the opposition coalition, 'INDIA' (Indian National Developmental Inclusive Alliance), consisting of 26 parties, including the Congress, made their voices heard through a chorus of slogans criticizing the Prime Minister's alleged silence on the Manipur situation. On the other side, ruling party members responded with fervent chants in support of PM Modi, creating a charged atmosphere within the Rajya Sabha.
Addressing the media outside the House, External Affairs Minister S Jaishankar expressed his concern over the opposition's lack of receptiveness to the government's developments in the past month. "You saw a very successful visit of the PM to the US…I felt bad that the opposition was not ready to listen. It seemed that they wanted to criticise any and every achievement of the country," he remarked.
Minister Jaishankar emphasized the significance of foreign policy as an area where the nation typically works together, regardless of internal debates. He urged for a united front when representing India's interests on the global stage, transcending political differences for the greater good. "The opposition's conduct today should be looked into; when it comes to national interest, politics should be set aside and it should be appreciated," he added.
The 'INDIA' coalition's protest took on a tangible form, with its members adorning black attire in a symbolic gesture of dissent against the PM's perceived silence on the Manipur issue. The state of Manipur has been experiencing ethnic clashes since the beginning of May, leading to growing concerns and demands for official statements from the government.
In response, the government has maintained its stance of being open to discussion while assuring that it is actively addressing the situation in Manipur. Despite these reassurances, the 'INDIA' coalition is calling for more explicit and immediate action from the Prime Minister.
The 'INDIA' alliance, consisting of a diverse group of opposition parties, has been formed to counter the National Democratic Alliance (NDA), led by PM Modi's Bharatiya Janata Party (BJP). Their main objective is to prevent the NDA from securing a third consecutive term at the Centre in the upcoming 2024 Lok Sabha elections.
As the slogan wars continue in the Rajya Sabha, the nation remains on alert, hoping for constructive dialogue and meaningful solutions to the pressing issues at hand. The demand for the Prime Minister's statement on Manipur persists, urging for a united front in addressing critical national matters.
Sources By Agencies