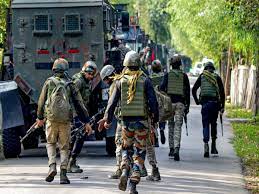 After a protracted and intense seven-day-long anti-terror operation in the Gadol forest of Jammu and Kashmir's Anantnag district, the police have confirmed the killing of a local Lashkar terrorist. The security forces are continuing their search efforts to recover the body of another terrorist involved in the encounter. Additionally, they will be conducting thorough sanitization of the alpine forest, which witnessed a week-long offensive marked by hundreds of mortar shells, rockets, and heavy gunfire.
This operation, which began last Wednesday, unfolded after a joint operation was launched by the army and police in the Gadol forest following specific intelligence indicating the presence of at least three Lashkar terrorists.
Tragically, during the course of the encounter, four security personnel lost their lives, including three officers – Colonel Manpreet Singh, Major Ashish, and DySP Himayun Bhat of the Jammu and Kashmir Police. This encounter is notable for its duration, marking one of the longest anti-terror operations in recent memory.
On Sunday, authorities discovered a charred body at the encounter site, which was beyond recognition. The body was subsequently sent for medico-legal procedures, and today, the police confirmed the identity of the deceased as Uzair Khan, a local Lashkar terrorist who had joined the group approximately a year ago.
Vijay Kumar, Additional Director General of Jammu and Kashmir Police, provided an update on the operation, stating, "LeT commander Uzair has been killed. His body and weapon have been recovered. We have spotted the body of another terrorist but it has not been retrieved so far. Search operation will continue." He also cautioned people against venturing into the forest area due to the presence of unexploded shells.
Throughout the encounter, the army conducted a specialized operation to retrieve the bodies of the fallen officers. The body of missing soldier Sepoy Pardeep Singh was recovered on the previous day, and today, the army paid homage to the fallen soldier.
This week-long anti-terror operation involved the engagement of thousands of security forces personnel, including para-troopers, making it one of the most extensive and challenging operations in recent times. The successful conclusion of the operation underscores the dedication and commitment of the security forces in maintaining peace and security in the region.
Sources By Agencies