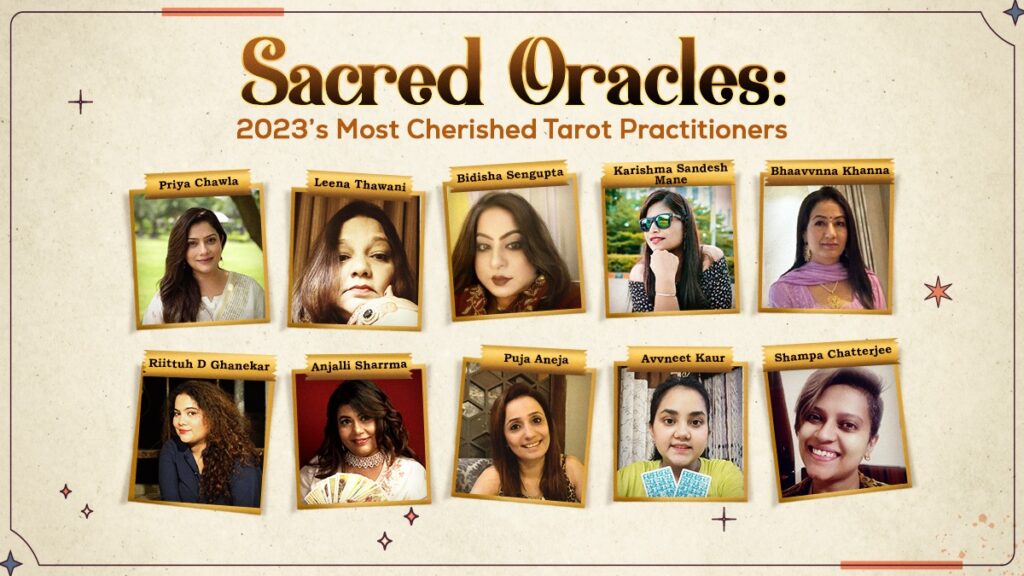 1. Priya Chawla
Embarking on an enchanting odyssey from an early age, Priya Chawla, a seasoned Tarot Reader, Emotional Wellness Coach, and Certified Psychology Counselor, has woven a tapestry of enlightenment. With fervor, Priya delved into mystic sciences—Tarot, Numerology, Feng Shui, Switchwords, Angel Healings. Since 2006, Tarot cards have been her guiding light, facilitating self-discovery and informed choices. Priya's Instagram handle, @tarotwisewithpriya, showcases her journey, where ancient mystique converges with modern revelations. Her clients echo tranquility and clarity post-sessions, reflecting the rewarding path Priya navigates, illuminating lives one Tarot card at a time.
Instagram – https://instagram.com/tarotwisewithpriya
2. Leena Thawani
Leena Thawani, a renowned Tarot Reader & Healer hailing from Aamchi Mumbai, has recently been honored with the prestigious 'National Fame Award 2023' for her exemplary expertise. With over 50k Instagram followers and growing, her tarot readings provide profound insights spanning Relationships, Career, Spiritual growth, and personal development. Leena's empathetic approach extends to aiding Senior Citizens, exemplifying her philanthropic spirit. Her transparent philanthropic endeavors ensure direct impact, making a difference in their lives. Leena Thawani's commitment to assisting others and ensuring positive outcomes underscores her reputation as a trustworthy guide, always ready to offer assistance.
Instagram – https://instagram.com/healings_from_within
3. Bidisha Sengupta
"Meet Mrs. Bidisha Sengupta, known as "powerofpurpletarot" on Instagram, a devoted spiritual seeker and skilled tarot reader. Her purpose extends beyond card readings; it's about helping clients unearth profound spiritual insights in their lives. Through tarot, she facilitates fresh perspectives, problem-solving, and channels energy healing via Reiki.
Bidisha possesses a unique talent for recommending crystals tailored to individual needs, guiding them on transformative journeys of growth and healing. Her dedication has earned her accolades, not only for her healing work but also for her poetry featured in anthologies. She embodies a blend of spirituality, guidance, and artistic expression, leaving a lasting impact on all she touches."
Instagram – https://instagram.com/powerofpurpletarot
4. Karishma Sandesh
Mane
Karishma, the founder of @tarotwiththestar, has traversed a remarkable journey in pursuit of her true calling. Despite her early career as an Aircraft Maintenance Engineer, life's challenges led her down various paths, including event planning and writing. The persistent struggle for stability pushed her to the brink, but a turning point arrived when she discovered tarot. Embracing the mystical, Karishma vowed to help others navigate their difficulties, providing guidance and healing. With her diverse skills in numerology, spellcasting, reiki healing, and more, she empowers individuals to overcome obstacles, offering them a path to a higher vibrational life. Karishma's dedication is a testament to the transformative power of finding one's true purpose.
Instagram – https://instagram.com/tarotwiththestar
5. Bhaavvnna Khanna
Bhaavvnna Khanna, an accomplished Astrologer, Numerologist, and Tarot card reader, boasts a wealth of experience across various astrological methodologies, setting her apart from her competitors. With a keen understanding of principles and ethics, she conducts precise birth chart analyses, enabling accurate predictions and offering straightforward yet effective remedies for a joyful existence. Bhaavvnna's adeptness at balancing numbers is noteworthy, complemented by her exceptional communication skills in English, Hindi, and Punjabi. Her commitment to preserving clients 100% privacy underscores her professionalism. Bhaavvnna Khanna emerges as an impeccable reader, offering transformative consultations for a fulfilling life.
Instagram – https://instagram.com/destinyconsultant14
6. Riittuh D Ghanekar
Riittuh D Ghanekar is a Mumbai-based professional Tarot and Numerology consultant, as well as a seasoned Spiritual Healer and Spiritual Coach. With a Master's degree in Clinical Psychology, Riittuh discovered her passion for ancient divination methods early on. Her journey led her to learn various esoteric arts, including Tarot card Reading, Angel healing, Numerology, Aura Cleansing, Crystal Therapy, Runes, and Lenormand card reading from renowned mentors in Mumbai. Riittuh further honed her expertise with advanced studies in the United Kingdom, earning her Master Tarot Certificate in 2016 and becoming a Master Teacher in Angelic Reiki in 2022. Today, she not only offers insightful consultations but also shares her spiritual wisdom with others, guiding them towards a brighter future.
Instagram – https://instagram.com/riittuhtarotanddivinehealing
7. Anjalli Sharrma
Anjalli Sharrma's inspiring journey reflects her remarkable resilience and adaptability. After a thriving corporate career, she embraced her innate spiritual talents, amassing 23 years of tarot reading expertise with astonishingly accurate predictions. Her influence extends to vastu consultancy, pranic and crystal healing, numerology, and television appearances. Collaborating with notable figures like Vikram Bhatt, she achieved accolades such as "Best Employee of the Year" at Bisleri and "Best Team Leader" in Ruia Group, recognized even in Dubai. As the 1st Runner Up in Amazing Curvaceous Models of India 2023, she's celebrated for her intellect and captivating charm. Anjalli Sharrma empowers individuals worldwide, guiding them in love, health, career, and finance with her precision and a global clientele.
Instagram – https://instagram.com/anjalistarot
8. Puja Aneja
Puja Aneja emerges as an accomplished Tarot Reader, Numerologist, and Crystal Therapist, boasting a rich six-year history of empowering individuals through positive transformation. With an unwavering ardor for her craft, Puja consistently delivers remarkable outcomes, ushering clients towards their true life purpose while adeptly navigating obstacles. Her proficiency in Tarot and Numerology stands out, guiding seekers to profound insights. As a Crystal Therapist, Puja's adeptness in selecting and leveraging crystals has led to a plethora of success stories. With an ethos of excellence and a genuine passion for aiding others, Puja Aneja rightfully claims her place as a revered figure in the realm of holistic healing.
Instagram – https://instagram.com/lightpath_bypuja
9. Avvneet Kaur
Avvneet Kaur, a beacon of spiritual wisdom, possesses a wealth of over 5 years of experience in illuminating the paths of more than 3000 clients on their spiritual journeys. Her practice is a tapestry of diverse modalities, including candle magick, Reiki, herbalism, crystal therapy, tarot, and oracle card reading. As an intuitive practitioner, Avvneet Kaur unwaveringly believes in the transformative power of energy work. With profound expertise and unwavering dedication, she stands as the ideal guide for those in search of enlightenment and healing. Avvneet Kaur's world is where ancient wisdom seamlessly merges with modern insight, inviting all to embark on a journey of spiritual transformation.
Instagram – https://instagram.com/tarotwithak
10. Shampa Chatterjee
Shampa Chatterjee, a passionate Tarot Reader and Relationship Coach, is dedicated to guiding individuals on a transformative journey through love, connections, and self-discovery. With profound cosmic wisdom, she unlocks insights using Tarot cards, illuminating paths to harmonious relationships. As a trusted Relationship Coach, she nurtures sacred bonds and advocates self-love.
Join Shampa in the "Trustworthy Ties Hub," a vibrant community fostering trust, understanding, and authenticity. Together, you'll uncover the secrets of meaningful relationships, weaving a tapestry of trust and love resonating with your souls. Welcome to a space where trust is foundational, understanding celebrated, and ties truly trustworthy, led by Shampa's unwavering belief in the power of trust and cosmic energies.
Instagram – https://instagram.com/shampachatterjee