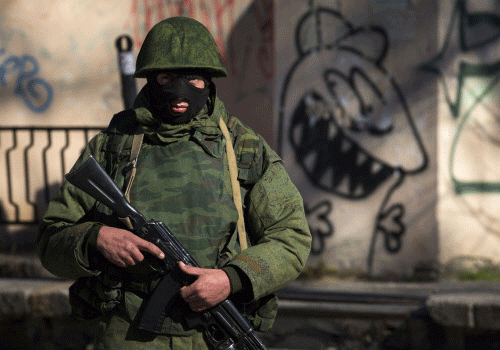 Russia's escalation Wednesday came as President Joe Biden, in his State of the Union speech to Americans on Tuesday night, warned that if the Russian leader didn't 'pay a price' for the invasion, the aggression wouldn't stop with one country. A 40-mile (64-kilometer) convoy of hundreds of Russian tanks and other vehicles advanced slowly on Kyiv, a city of nearly 3 million people. The West feared it was part of a bid by Putin to topple the government and install a Kremlin-friendly regime. The Russians also pressed their assault on other towns and cities, including the strategic ports of Odesa and Mariupol in the south. A senior US defence official said Russia's military progress has slowed, plagued by logistical and supply problems. Some Russian military columns have run out of gas and food, the official said, and morale has suffered as a result. The Russian military has also been stalled by fierce resistance on the ground and a surprising inability to completely dominate Ukraine's airspace.Mar 02, 2022 9:30 PM (IST) Mar 02, 2022 9:02 PM (IST)
14 students from Goa were studying in Ukraine out of which 2 have reached their homes, 3 have crossed the border & reached Romania. The remaining students are in touch with Indian Embassy. We are trying to evacuate all Indian citizens stranded in Ukraine, informs Goa CM Pramod Sawant.Mar 02, 2022 8:57 PM (IST)
UK Prime Minister Boris Johnson has called Russian President Vladimir Putin a war criminal after civilians were bombed in Ukraine.Mar 02, 2022 8:54 PM (IST)
As India's 'Operation Ganga' to bring back stranded Indians from war-torn Ukraine advances, and the country explores more ways to evacuate its nationals, Prime Minister Narendra Modi on Wednesday spoke to Russian President Vladimir Putin.Mar 02, 2022 8:43 PM (IST)
Tears and hugs at Delhi airport as stranded Indian students reunite with their families. The government is ramping up the evacuation process named 'Operation Ganga'.Mar 02, 2022 8:28 PM (IST)
Union Minister Hardeep Singh Puri interacted with Indian students who were leaving from a hotel in Budapest, Hungary for evacuation to India on an Indian Air Force aircraft.Mar 02, 2022 8:18 PM (IST)
Head of WHO spoke in favour of the urgent opening of a humanitarian corridor in Kyiv.Mar 02, 2022 8:16 PM (IST)
Four India Air Force (IAF) aircraft with approximately 800 Indian evacuees to land at Hindon airbase between 1.30 am tonight and 8 am tomorrow morning: Government officialsMar 02, 2022 8:14 PM (IST)
PM to chair a high level meeting on the Ukraine issue at 8:30pm tonightMar 02, 2022 7:50 PM (IST)
IndiGo will send 8 flights to Hungary, Poland and Romania on Thursday to evacuate Indians stranded in UkraineMar 02, 2022 7:43 PM (IST)
Nokia will stop deliveries of technological equipment for cellular communications to Russia.Mar 02, 2022 7:34 PM (IST)
Kerala CM Pinarayi Vijayan writes a letter to PM Modi & sought his "urgent intervention with the Russian leadership to set up a humanitarian corridor for students to come out of the war zone…"Mar 02, 2022 7:31 PM (IST)
PM Modi is expected to call Valadimir Putin tonight to discuss safe passage for Indians stuck in UkraineMar 02, 2022 7:17 PM (IST)
Union minister Jyotiraditya Scindia on Operation GangaMar 02, 2022 7:01 PM (IST)
A mechanism for issuing emergency certificates to those who lost their Indian passports has been instituted. I think this will also help many Indian students: Arindam Bagchi, MEA SpokespersonMar 02, 2022 6:49 PM (IST)
There has been a sharp increase in the number of Indians who have left Ukraine. We now estimate that nearly 17,000 Indian nationals have left Ukraine borders since our advisories were issued: Arindam Bagchi, MEA spokesperson said in presser today.
As many as 15 flights are scheduled over the next 24 hours. Some of these are already actually enroute, he said.
During the last 24 hours, 6 flights have landed in India, taking the total number of flights that have landed in India to 15 and the total number of Indians who have returned on these flights to 3,352, MEA informed.
The ministry also informed that Indian Air Force aircraft have joined 'Operation Ganga' with the first C-17 flight from Bucharest (Romania) expected to return to Delhi later tonight. Three more IAF flights will be undertaken today from Budapest (Hungary), Bucharest (Romania) & Rzeszow (Poland).Mar 02, 2022 6:45 PM (IST)
Entire city of Borodyanka practically destroyedMar 02, 2022 6:38 PM (IST)
Indian Embassy in Kyiv issues urgent advisory for Indian nationals in Ukraine
This is an urgent advisory to all Indian Nationals in Kharkiv. For their own safety and security, they must leave Kharkiv immediately repeat immediately in the light of the deteriorating situation. They should proceed to Pesochin, Babaye, and Bezlyudovka as soon as possible for their safety. Under all circumstances they must reach these settlements by 6 pm (Ukrainian time) today.Mar 02, 2022 6:30 PM (IST)
MoS Civil Aviation General (Retd) VK Singh interacts with 600 Indian students at Hotel Prezydenckie in Rzeszow, Poland. Says, "If your course isn't complete… all people I met in Poland said that they'll take up responsibility for education of all students who were in Ukraine."Mar 02, 2022 5:58 PM (IST)
Prime Minister Boris Johnson said that Britain was pushing UN members meeting in New York to urge Russian President Vladimir Putin to withdraw troops from UkraineMar 02, 2022 5:36 PM (IST)
Up to 15,000 people are currently hiding from bombs in the Kyiv metro. According to Viktor Brahinsky, head of the Kyiv metro, the underground can host up to 100,000 people. The stations have water, bathrooms, food, and medicine at their disposal.Mar 02, 2022 5:26 PM (IST)
European Union decides to exclude 7 Russian Banks from SWIFTMar 02, 2022 5:22 PM (IST)
More than 2,000 Ukrainians have died since the Russian invasionMar 02, 2022 5:17 PM (IST)
It is not yet known when the second round of negotiations with the Russian Federation will take place. Unclear when next round of Ukraine-Russia talks will be held. Ukraine's FM said that Kyiv was ready to negotiate, but would not work with 'Russian ultimatums.' Kuleba said that Russia's demands are 'the same as those publicly voiced by Putin at the start of the war,' says KulebaMar 02, 2022 4:27 PM (IST)
China won't join the United States and European governments in imposing financial sanctions on Russia, the country's bank regulator said on Wednesday. China is a major buyer of Russian oil and gas and the only major government that has refrained from criticizing Moscow's attack on Ukraine. Beijing opposes the sanctions, said Guo Shuqing, the chairman of the China Banking and Insurance Regulatory Commission. "We will not join such sanctions, and we will keep normal economic, trade and financial exchanges with all the relevant parties,' Guo said at a news conference. "We disapprove of the financial sanctions, particularly those launched unilaterally, because they don't have much legal basis and will not have good effects."Mar 02, 2022 4:21 PM (IST)
Things are still unfolding, I don't think it will affect us too much. India's relations with both countries have remained good. We're evaluating, there will be certain difficulties: Air Marshal Sandeep Singh, Vice Chief of Air Staff on impact of sanctions against RussiaMar 02, 2022 4:20 PM (IST)
Nearly 836,000 refugees have fled Ukraine, says United NationsMar 02, 2022 4:18 PM (IST)
Civil Aviation Minister Jyotiraditya Scindia interacts with Indian students at Henri Coanda International Airport in Bucharest (Romania). The students are being evacuated and being brought back to India.Mar 02, 2022 4:15 PM (IST)
Indian students in Ukraine may have miscalculated gravity of situation although Centre had issued evacuation advisory before Russia attacked: BJP leader Devendra FadnavisMar 02, 2022 3:41 PM (IST)
Russian Foreign Minister Sergei Lavrov said on Wednesday that if a third World War were to take place, it would involve nuclear weapons and be destructive, the RIA news agency reported. Lavrov has said that Russia, which launched what it calls a special military operation against Ukraine last week, would face a "real danger" if Kyiv acquired nuclear weapons.FULL STORYMar 02, 2022 3:36 PM (IST)
China says one of its citizens was shot and injured while evacuating from Ukraine. Foreign Ministry spokesperson Wang Wenbin said the incident occurred on Tuesday while the person was leaving on their own. The Chinese Embassy in Kyiv immediately contacted the person to provide assistance. Wang told reporters at a daily briefing that the injured person is out of danger. He said the embassy is following the person's progress and will continue to provide aid. Details surrounding the shooting are unclear, pointing to the chaotic situation as hundreds of thousands of Ukrainians and thousands of foreigners seek to escape the fighting. Beijing has refused to criticize the Russian assault or even describe it as an invasion or war, arguing that NATO and the West had failed to properly address Russia's legitimate security concerns.Mar 02, 2022 3:25 PM (IST)
Russia will investigate the death of the 21-year-old Indian medical student in the Ukrainian city of Kharkiv, Russian Ambassador-designate Denis Alipov said on Wednesday. Naveen Shekarappa Gyanagoudar, a fourth-year medical student at the Kharkiv National Medical University, was killed in intense shelling in Kharkiv on Tuesday. Following the incident, India asked the envoys of both Russia and Ukraine to ensure "urgent safe passage" to Indian nationals who are still in Kharkiv and other conflict zones. "I want to express our sympathy to the family of Naveen Shekarappa Gyanagoudar and to the entire Indian nation over the tragedy," Alipov said at a media briefing. "Russia will do everything it possibly can to ensure the safety of Indian citizens in the areas of intense conflict…and a proper investigation of this unfortunate incident," he said. Naveen hailed from Chalageri in the Haveri district of Karnataka.Mar 02, 2022 3:19 PM (IST)
Ukrainian President Volodymyr Zelensky has expressed concern that Russian attacks could threaten holy religious sites and said Russian troops are trying to erase our history. In a speech posted on Facebook, Zelenskyy on Wednesday denounced a Russian strike that hit Holocaust memorial site Babi Yar in Kyiv. He said: "This is beyond humanity. Such missile strike means that for many Russians our Kyiv is absolute foreign. They know nothing about our capital, about our history. They have orders to erase our history, our country and all of us." "What will be next if even Babi Yar (is hit), what other military' objects, NATO bases' are threatening Russia? St. Sophia's Cathedral, Lavra, Andrew's Church?" he asked, referring to sites in Kyiv held sacred by Ukrainian and Russian Orthodox believers around the world. Zelenskyy also claimed almost 6,000 Russian soldiers have been killed since the invasion began last Thursday. Russia has not released overall casualty numbers and the figure could not be confirmed.Mar 02, 2022 3:18 PM (IST)
Law Minister Kiren Rijiju, one of the four Union ministers sent to coordinate evacuation of Indians from war-hit Ukraine, has reached the Slovakian city of Kosice, his office said on Wednesday. Besides Rijiju, ministers Hardeep Puri, Jyotiraditya Scindia and Gen V K Singh (retd) are the four special envoys sent to neighbouring countries of Ukraine to coordinate the evacuation mission and help students. The ministers have been sent as part of 'Operation Ganga' to fly out Indian citizens stranded in Ukraine. "Kiren Rijiju reaches Kosice airport near Ukraine border for Operation Ganga. Received by India's Ambassador to Slovakia Vanlalhuma and Pankaj Phukan, First Secretary, Embassy of India, Brussels, Belgium," Rijiju's office tweeted. It also shared pictures of the minister at the airport. Rijiju reached Slovakia on a SpiceJet flight sent to pull out Indians who have reached the country by road from Ukraine.Mar 02, 2022 3:18 PM (IST)
Videos circulated online of an apparent attack on the regional police and intelligence headquarters in Kharkiv, Ukraine's second-largest city. It shows a building with its roof blown off and its top floor on fire. Pieces of the five-story building are strewn across adjacent streets. The Ukrainian government's center for strategic communications released images Wednesday of strikes hitting Kharkiv, with balls of fire lighting up the city skyline over populated areas. Kharkiv resident Marina Boreiko described strikes hitting a neighbouring building Tuesday, and her shock at seeing bodies lying in the rubble.Mar 02, 2022 3:17 PM (IST)
Our MEA, PM working on it. Given the situation in Ukraine, there is no airstrip… even a plane can't land there: Defence Minister Rajnath Singh on bringing the body of Karnataka's Naveen Shekharappa, an MBBS student who died in shelling in UkraineMar 02, 2022 3:16 PM (IST)
Russia 'ready' to continue talks with Ukraine Wednesday night: AFP News Agency. The two sides had earlier met on Monday at the Belarus border.Mar 02, 2022 3:15 PM (IST)
Russian opposition leader Alexei Navalny calls for nationwide anti-war protestsMar 02, 2022 3:07 PM (IST)
German Chancellor Olaf Scholz kicked off a visited to Israel on Wednesday, briefly leaving Europe as the continent's largest ground war in generations rages between Russia and Ukraine. Scholz arrived in Israel Tuesday evening and will return to Germany later Wednesday in a visit his first to Israel since becoming German leader that was planned before the fighting erupted. He toured Israel's Holocaust memorial Yad Vashem alongside Israeli Prime Minister Naftali Bennett and the two were set to hold a press conference later in the day. His visit comes as Russia's assault on Ukraine continued for a seventh day, and as Western countries have rallied together against the incursion.Mar 02, 2022 2:49 PM (IST)
Russia's escalating attacks on populated urban areas of Ukraine left rubble and wreckage in streets and plazas as the invasion claimed new victims across the country. | IN Scenic Ukraine turns into rubble country amid Russian bombing
A view of Kharkiv city before and after Russian bombing.Mar 02, 2022 2:47 PM (IST)
A total of 60 natives of Madhya Pradesh, out of the 193 who have contacted the state government for their evacuation from Ukraine, have returned home from the war-ravaged country so far, a minister said on Wednesday. The Madhya Pradesh government has directed the Superintendent of Police (SP) of all the districts to contact the family members of the persons stuck in Ukraine, state Home Minister Narottam Mishra said. "As many as 193 Madhya Pradesh natives trapped in Ukraine had contacted the state government through the CM helpline and other means. Of them, 60 have returned to the state safely," he told reporters.Mar 02, 2022 2:46 PM (IST)
Prime Minister Narendra Modi on Wednesday said that India will not spare any effort to bring home citizens from war-torn Ukraine. Today is the seventh day of Russia's invasion of the neighbouring country which Vladimir Putin wants to demilitarise.FULL STORYMar 02, 2022 2:45 PM (IST)
Former Congress president Rahul Gandhi on Wednesday said the Government must tell how many students have been evacuated and how many are still stranded in Ukraine, and demanded that it must also spell out its clear strategy to the families of those involved. The Congress has been questioning the delay in evacuation of all Indians from war-struck Ukraine after Russia attacked it and criticised its response "To avert further tragedy, the Government of India (GOI) must share: How many students have been evacuated. How many are still stranded in Ukraine. Region-wise detailed evacuation plan," Gandhi said on Twitter. "We owe a clear strategy and communication to the families involved," he said.Mar 02, 2022 2:40 PM (IST)
Britain's defence secretary has pushed back against calls for NATO to impose a no-fly zone in Ukraine, saying aircraft from both sides would be grounded and that could help Russia's land forces. Ben Wallace's comments came a day after a Ukrainian journalist confronted Prime Minister Boris Johnson with questions about why NATO had failing to enforce a no-fly zone while civilians were being attacked from the air.Mar 02, 2022 2:36 PM (IST)
In a makeshift maternity ward in the basement of a Ukrainian hospital, new mother Kateryna Suharokova struggled to control her emotions as she held her son while doctors upstairs raced to treat victims of Russian shelling. 'I was anxious, anxious about giving birth to the baby in these times,' the 30-year-old said, her voice trembling. 'I'm thankful to the doctors, who helped this baby to be born in these conditions. I believe that everything will be fine.' The basement of the maternity hospital in Ukraine's coastal city of Mariupol transformed into a bomb shelter and nursery as Russian forces escalated their attacks on crowded urban areas Tuesday. Workers bundled one newborn and carried him down flights of stairs to the basement, where a dimly lit room cramped with beds and cribs sheltered workers and patients.Mar 02, 2022 2:24 PM (IST)