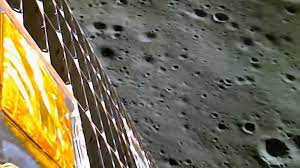 The triumphant landing of Chandrayaan 3 on the lunar surface has garnered widespread recognition, with American billionaire investor Raymond Dalio joining the chorus of admiration. Dalio, also known as Ray Dalio and the founder of Bridgewater Associates, the world's largest hedge fund, has lauded India's accomplishment as "another one of many straws in the wind showing its ascendance."
In a post on the social media platform X, formerly known as Twitter, Dalio commended India's successful lunar mission and highlighted the nation's potential for growth. He referenced his health index for countries, a tool he uses to derive projections for countries' next 10-year growth rates, which places India at the forefront with an anticipated growth rate of about 7%. Dalio emphasized that India possesses the ideal blend of ingredients to realize its tremendous potential, citing strong leadership as a catalyst.
Drawing a parallel to China's transformative period, Dalio noted, "It reminds me a lot of China in 1984 (when I first went) around the time Deng Xiaoping made his reform and opening up policies that catalyzed China." In his view, India's ascent is akin to the significant reforms undertaken by Communist-ruled China during the 1980s.
India's achievement holds significant significance as the nation became the first to successfully touch down on the moon's south pole. The Chandrayaan 3 mission proceeds smoothly and according to schedule, with all systems operating normally, as confirmed by the Indian Space Research Organisation (ISRO).
Prime Minister Narendra Modi also weighed in on the occasion, addressing ISRO scientists following the triumphant lunar landing of Chandrayaan 3. He proclaimed, "India's successful moon mission is not India's alone." He underscored the global resonance of India's "One Earth, One Family, One Future" approach, emphasizing its human-centric philosophy. Modi framed the success of the moon mission as a shared achievement that contributes to the emergence of a developed nation and symbolizes unity among humanity.
As Chandrayaan 3 marks a milestone in India's space exploration journey, global figures like Raymond Dalio recognize and celebrate the nation's remarkable achievements. The successful mission serves as a testament to India's growth potential and its dedication to pushing the boundaries of scientific exploration.
The resonance of India's lunar triumph with influential figures highlights the global impact of space exploration, innovation, and national achievement. As India's strides continue to captivate attention, they underscore the nation's role as a rising force on the international stage.
Sources By Agencies