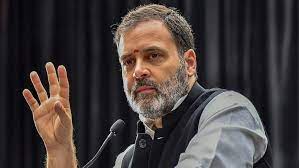 In a strongly worded statement, Congress leader Rahul Gandhi has accused the Rashtriya Swayamsevak Sangh (RSS) of exerting influence over key institutions in India, including Union ministries. Speaking at a public interaction in Ladakh, Gandhi claimed that individuals associated with the RSS are guiding decision-making in the government, raising concerns about their alleged sway over various aspects of governance.
Gandhi's allegations were captured in a widely-shared video, where he expressed his belief that ministers within the Union Cabinet aren't the sole decision-makers in their respective domains. Instead, he contended that certain individuals linked to the RSS are actively involved in shaping policy directions. He went on to claim that these individuals are essentially dictating the course of action for these ministries.
The RSS, widely seen as the ideological arm of the Bharatiya Janata Party (BJP), has often faced criticism from the opposition for its perceived influence in governmental affairs. Rahul Gandhi's recent remarks further fueled debates about the extent to which the RSS might be influencing policy decisions and institutional appointments.
"Even if you ask any of the ministers in the Union government, they will tell you they are actually not running their ministries. Those deputed by the RSS are actually running these ministries and are suggesting everything," Gandhi asserted in the video clip, which has garnered significant attention on social media platforms.
This isn't the first time that such allegations have been raised. Similar sentiments were expressed earlier by Samajwadi Party president Akhilesh Yadav, who accused the RSS-BJP ideology of hoisting the national flag in every household to compensate for their opposition to Mahatma Gandhi's Quit India Movement. Yadav also criticized their policies, suggesting that they are permitting industrialists to leave the country after accumulating substantial debts from banks.
During his visit to Ladakh, Rahul Gandhi discussed a range of issues, including the abrogation of Article 370 and the reorganization of Jammu and Kashmir into two Union Territories. He interacted with local youth, addressing the challenges and opportunities facing the region.
Gandhi emphasized the importance of India's constitution in ensuring freedom and underscored the role of institutions in upholding its principles. He expressed concerns that the BJP and RSS are allegedly placing their own affiliates in pivotal positions within the institutional framework, raising questions about potential conflicts of interest and undue influence.
Sources By Agencies