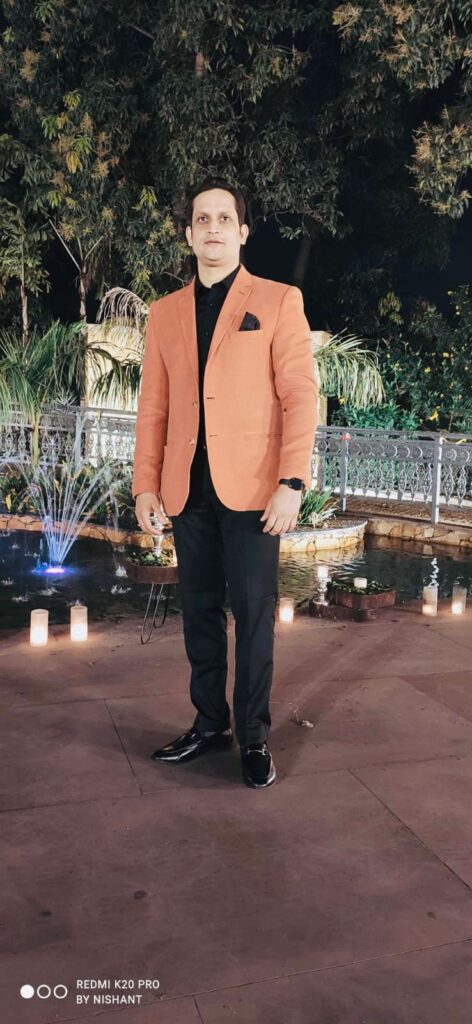 Manish Pandey is a seasoned professional in Greenfield project management and Labour Law advisory with over 8 years of experience in diverse industries. As an accomplished project manager, Manish has a proven track record of success in delivering projects that exceed expectations and provide valuable insights to clients.
With a deep understanding of client engagement and stakeholder management, Manish has been responsible for managing relationships with some of his firm's most important clients. His ability to build trust and rapport with stakeholders at all levels of an organization has been key to the successful delivery of projects.
Manish is an expert in project management and continuously strives to enhance his skills and knowledge to deliver exceptional results. As an experienced professional with a diverse background, he brings a unique perspective to the business world. His Masters in International Business and Emerging Markets from the University of Edinburgh, U.K. has equipped him with a keen understanding of global business trends and practices. Additionally, his Bachelors of Business Administration in Finance from Amity University has given him the necessary financial acumen to make informed decisions in any industry.
Manish's certification in Labour Law from Rajiv Gandhi National University of Law Patiala has given him a comprehensive understanding of legal and compliance issues in business. He is currently pursuing a Bachelors of Law L.L.B from Mangalayatan University, Aligarh U.P. to further enhance his legal knowledge to support his business decisions.
As an accomplished volunteer, entrepreneur, and industry expert, Manish brings a unique perspective to the field of business development and sustainable growth. He won a silver medal as a volunteer at the Help-age India contest and has been an active member of the Entrepreneur Club at the University of Edinburgh, UK.
Manish is a knowledge partner to various associations like IIA, ICEA, and CII, and has contributed significantly to the development of the business community. He is fluent in English, Hindi, and Chinese Simplified, which has enabled him to connect with diverse audiences and foster productive collaborations.
Manish has been invited as a guest speaker and judge on several industry-academia skill panels, including the CII Majestic "Will Wali Skill" initiative and the CII Majestic Skill Will Lead initiative. Additionally, he has served as a speaker and jury member at Technovanza 2.0 and the Infinity 2022-5th International Technology Conference by Amity Business School.
Manish's expertise has been recognized globally, as he has been invited as a speaker and guest of honour at the INDO-THAI International Conference in Thailand, and as a guest speaker and panellist at the International Conference on Entrepreneurship and Sustainable Business Development, by Amity School of Business and College de Paris, France.
In recognition of his contributions to the field of strategic management, Manish serves as a member of the Area Advisory Board Strategic Management Stream at Amity School of Business, Amity University.
Finally, Manish has published research on the challenges faced by Indian small-scale textile manufacturers, titled "Indian small-scale textile manufacturers suffer from lack of technology and Chinese dumping: A research on small scale textile manufacturers" in the University of Edinburgh.
With over a decade of experience in Greenfield project management, certification, audit, and compliance management, Manish has worked with various multinational companies across India, Mexico, Brazil, and the Democratic Republic of Congo. His expertise lies in providing end-to-end project management and advisory services, ensuring timely completion and compliance with industry standards.
Manish has worked with companies like Diageo, Avery Dennison, Iusacell Limited, Embraer, OPPO Mobiles, Lite-On Power Electronics, Taehwa Enterprises, LAVA International, JATO Garments, VIVO Mobiles, Opteimus Electronics, DIC India, and ORD Group, providing project management and advisory services. He has also worked with many other companies pan India, helping them achieve their project goals.
As a dedicated volunteer and coordinator, he had always been passionate about making a positive impact in the lives of those in need. With a strong background in social work, He has the opportunity to work with a variety of organizations focused on issues ranging from special education to women and child welfare
With a strong sense of purpose and a passion for social justice, he is eager to continue making a difference in the world and to inspire others.