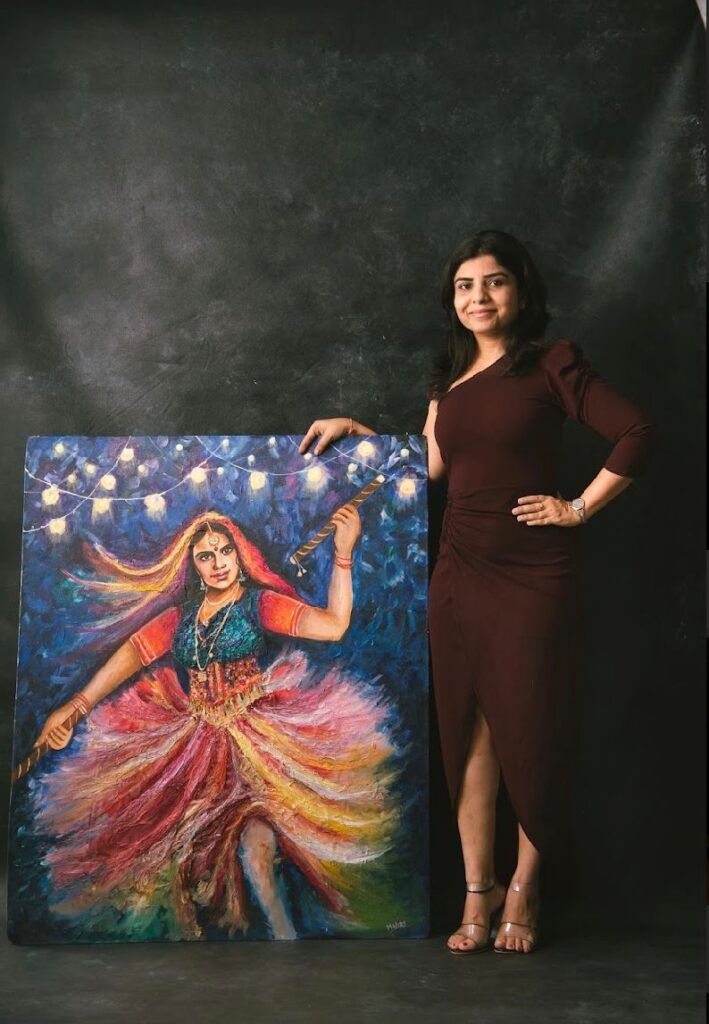 Maitrry P Shah, a name that resonates with artistic brilliance, passion, and a deep commitment to social causes. This exceptional contemporary Indian artist has been captivating the art world with her expressive and imaginative paintings that touch the soul. Born on April 11th, 1987, in Ahemdabad, Gujarat, Maitrry's artistic journey began in her early childhood, with nature as her muse. Supported wholeheartedly by her parents, she embarked on a path that would lead her to artistic greatness.
A Spark of Genius
The world first took notice of Maitrry's extraordinary talent when, at just 12 years old, she won the "Silver Medal" in the prestigious 10th Kanagawa Biennial World Art Competition in Japan. It was evident that she was destined for greatness. Alongside her artistic pursuits, Maitry also excelled academically, proving that she was not only gifted in art but intellectually accomplished as well.
Fanning the Flames of Passion
While success in the IT industry was within reach, Maitry's heart remained devoted to art. During her time in the United States, she sought inspiration from renowned art galleries, which further fueled her artistic fire. Drawing from these experiences, she hosted solo and group exhibitions that garnered recognition both nationally and internationally.
A Brush with Emotions
Maitrry's artistic repertoire is a marvel in itself. With various mediums like oil, acrylic, oil pastels, and mixed media, she skillfully captures a wide range of human emotions, particularly focusing on expressions of women. Love, happiness, despair, and sadness come alive in her soul-touching brushstrokes. Her unique style infuses vitality and fluidity into her figures, leaving a lasting impression on viewers.
Art with a Purpose
Beyond personal achievements, Maitry actively participates in fundraising charity art shows organized by NGOs and charitable trusts. Her efforts revolve around empowering underprivileged women, advocating for child rights, and supporting deaf and mute communities. Generously imparting free art lessons to children and writing inspiring blogs, she nurtures and encourages budding artists.
Works that Speak Volumes
Among Maitrry's notable works are pieces like "Broken Heart," "Thoughts," "In the Rain," and "Woman," cherished by well-known actresses and notable personalities. Her art has even found its way beyond India, cherished by prestigious owners worldwide.
A Mentor and Role Model
With a profound understanding of the transformative power of art, Maitrry is dedicated to inspiring the next generation of artists. Through workshops and interactive sessions at schools and art institutes, she shares her techniques, experiences, and artistic vision, encouraging aspiring artists to explore their creativity and develop their unique voices.
Awards and Accolades
Maitrry's exceptional talent and contributions have been recognized with numerous prestigious awards, including three international distinctions and an impressive array of sixteen national awards.
Art with a Cause
Maitrry's paintings transcend the canvas, advocating for social causes, celebrating the resilience and beauty of women, and exploring the intricacies of human emotions. Her dedication to addressing pertinent social issues has earned her immense respect within the art community and beyond.
A Lasting Impact
As Maitrry's artistic journey continues, her dedication to exploring new techniques and using her talent for the betterment of society fuels her passion. Each new creation leaves an indelible impact on the contemporary art scene, inspiring art enthusiasts and artists alike.
A Living Legend
Maitrry P Shah's journey from a young artist with a passion for nature to an internationally recognized and award-winning contemporary Indian artist is nothing short of remarkable. Her artistic brilliance, compassion, and commitment to social causes have established her as a living legend in the art world.
A Mirror of Life
Through her art, Maitrry reflects the beauty of life, the human experience, and the world around us. Her legacy is one that will undoubtedly leave a lasting impact on the world of art and beyond. She continues to be an inspiration for many, using her talent to evoke powerful emotions and transform lives for the greater good.