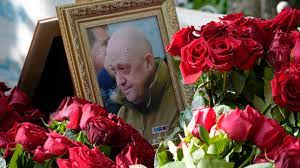 In an unprecedented revelation, the Kremlin has officially acknowledged that the ongoing investigation into the fatal plane crash involving mercenary leader Yevgeny Prigozhin is exploring the possibility that the crash may have been deliberately caused. This disclosure marks the first explicit admission by Russian authorities that Prigozhin's death could be the result of an intentional act, possibly assassination.
Kremlin spokesperson Dmitry Peskov addressed the media, stating, "It is obvious that different versions are being considered, including the version – you know what we are talking about – let's say, a deliberate atrocity." He went on to emphasize that the world should await the conclusive findings of the Russian investigation before drawing conclusions.
The tragic incident unfolded when the private jet carrying Yevgeny Prigozhin was en route from Moscow to St Petersburg. The plane crashed north of Moscow on August 23, claiming the lives of all 10 individuals on board, including Prigozhin himself, two other prominent Wagner figures, his four bodyguards, and a three-member crew. Despite the passage of time, the exact cause of the crash remains shrouded in mystery.
The crash occurred exactly two months after Yevgeny Prigozhin orchestrated a mutiny in the southern city of Rostov, gaining control in late June. This event sent shockwaves through the foundations of Russian President Vladimir Putin's rule. The timing and context of Prigozhin's takeover have fueled speculation and theories regarding the possible motives behind the plane crash.
Interestingly, Russia has informed Brazil's aircraft investigation authority that it will not conduct its probe into the crash of the Brazilian-made Embraer jet under international rules, at least "at the moment." The Brazilian agency, in turn, communicated this decision to Reuters. Peskov clarified that the investigation is primarily being handled by the Russian Investigative Committee, suggesting that there is currently no international aspect to the case.
Yevgeny Prigozhin was laid to rest in a private ceremony at the Porokhovskoye cemetery in his hometown of St Petersburg on Tuesday. Notably, Russian President Vladimir Putin was absent from the funeral proceedings, a fact that has drawn attention given Prigozhin's connections and the implications of his demise.
As the investigation continues, the mysterious circumstances surrounding the plane crash and Prigozhin's potential role in Russian politics cast a shadow of intrigue, leading to global speculation on the true nature of the tragedy.
Sources By Agencies