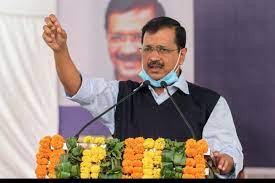 In a fiery response to Union Home Minister Amit Shah's Lok Sabha speech earlier today, Delhi Chief Minister Arvind Kejriwal accused Shah of presenting 'invalid arguments' to support the contentious Delhi ordinance bill. The bill, which aims to give the Union government the authority to make bureaucratic transfers in the national capital, has triggered a fierce political tussle between the ruling Bharatiya Janata Party (BJP) and the opposition I.N.D.I.A bloc, led by the Aam Aadmi Party (AAP).
Kejriwal, the national convenor of AAP, took to X (formerly Twitter) to slam Shah's stance on the bill, stating, "Today, I heard Amit Shah ji's Lok Sabha speech on the bill that snatches away the rights of the people of Delhi. He does not have a single valid argument to support the bill. He is just talking nonsense; even he knows what he is doing is wrong."
The Delhi ordinance bill seeks to return the authority over bureaucratic transfers in the national capital to the Union government. As Delhi is both a Union territory (UT) and the national capital, the Lieutenant Governor (LG), a representative of the Centre, holds the constitutional headship, making it a point of contention between the AAP-led Delhi government and the BJP-led central government.
The issue reached the Supreme Court, where on May 11, a Constitution bench, headed by Chief Justice DY Chandrachud, unanimously ruled that the central government's control in Delhi should be limited to land, law and order, and police matters. However, on May 19, President Droupadi Murmu promulgated an ordinance to overturn the Supreme Court ruling, leading to widespread criticism from the opposition.
Kejriwal also vowed that the I.N.D.I.A bloc, a coalition of 26 opposition parties, including the AAP, will not allow the government to 'enslave' the people of Delhi by passing the bill. The I.N.D.I.A bloc, formed to challenge the ruling BJP in the upcoming 2024 Lok Sabha elections, has termed the Delhi ordinance legislation as an 'attack' on the country's federal structure.
"This bill will enslave the people of Delhi; it will make them helpless. INDIA will never let this happen," Kejriwal emphasized.
The political showdown over the Delhi ordinance bill intensifies as both the BJP and Prime Minister Narendra Modi gear up to seek a third consecutive term in the upcoming Lok Sabha elections. The opposition I.N.D.I.A bloc, determined to protect Delhi's autonomy and federal structure, has vowed to resist the bill and its potential implications on the national capital.
The debate over the bill will undoubtedly continue to be a focal point in the political landscape as the nation gears up for the highly anticipated 2024 Lok Sabha elections.
Sources By Agencies