Indian mythological author Nilesh Kumar Agarwal has been awarded for his contribution as an outstanding author by Icons of ASIA 2022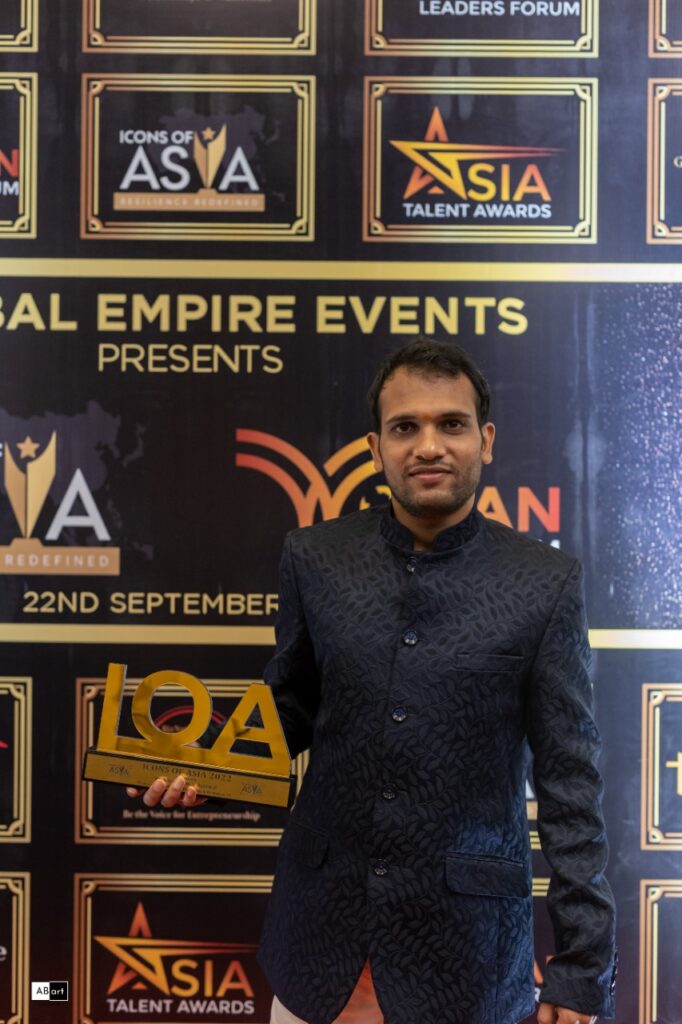 The author accepted the award at a ceremony in Delhi at Hotel Radisson BLU Dwarka. Nilesh Kumar Agarwal said he was "humbled and deeply honoured" to receive the recognition given by Global Empire Events. The distinguished award celebrates leaders in their field who demonstrate commitment to social change and reflect passion for building a strong society.
He was one of the honorees this year, who also included Speaker of the House Lord Diljit Rana (Member of Parliament – House of Lords, UK), Mrs. Shabeena Sultana (Honorary Consul of the Republic of Tunisia), Nawab Mir Nasir Ali Khan (Honorary Consul of Republic of Kazakhstan for Telangana & Andhra Pradesh,India), Mr. Deepak Singh (Cultural Ambassador of Seychelles, Government of Seychelles), Shree Prashant Mukund Das an Spiritual Guide & Bhagavatam Katha Speaker.
The award is given to a writer whose work can be compared to that of other authors, suggesting that figures in Nilesh Kumar Agarwal's own work such as Indian traditions and their scientific reasons, Kabir couplets and ramayana, Essence of all religions are expected, by the judges at least, to have the enduring appeal of this award. This award is given annually to authors whose work is recognised around the globe. A statement from the organisation said: "Since his rise as an author, Nilesh Kumar Agarwal has used his talents and stature as a writer to fight inequality among people regarding different religions on both a local and global level.
Nilesh Kumar Agarwal is the founder of the non-profit-making organisation Nilesh Staallion Foundation, which supports humans and animals medically though crowdfunding. He had also done a mythological show with Radio City named "Ramayana Rehsaya" which was aired on Dussehra 2021 voiced by Madhushree Bhattacharya, a famous bollywood singer.
In his acceptance speech Nilesh Kumar Agarwal said: "I count this one of the highest honours I've ever been given. Also, I'm deeply honoured to receive this award and humbled that my work has been recognised as having moral value by an organisation I so admire," He expressed his pride at having been chosen to receive the award
On 22nd September 2022, Nilesh Kumar Agarwal was awarded for his contribution as an outstanding author. He accepted the esteemed award from the Head of ISCKON, Dwarka. Mr. Prashant Mukund Das a Spiritual Guide & Bhagavatam Katha Speaker. He is associated with ISCKON from last 15 years and a great Preacher of vedic scriptures worldwide.
It is a special award held by Global Empire events. Nilesh Kumar Agarwal was honoured for his contribution as an outstanding author this year. Of the honour, He said "to be included in the distinguished and diversely talented company of the other Companions of Honour, especially as a writer, is a particular privilege."
Read Full Article on Xpesstimes & Follow us on Instagram Xpesstimes..