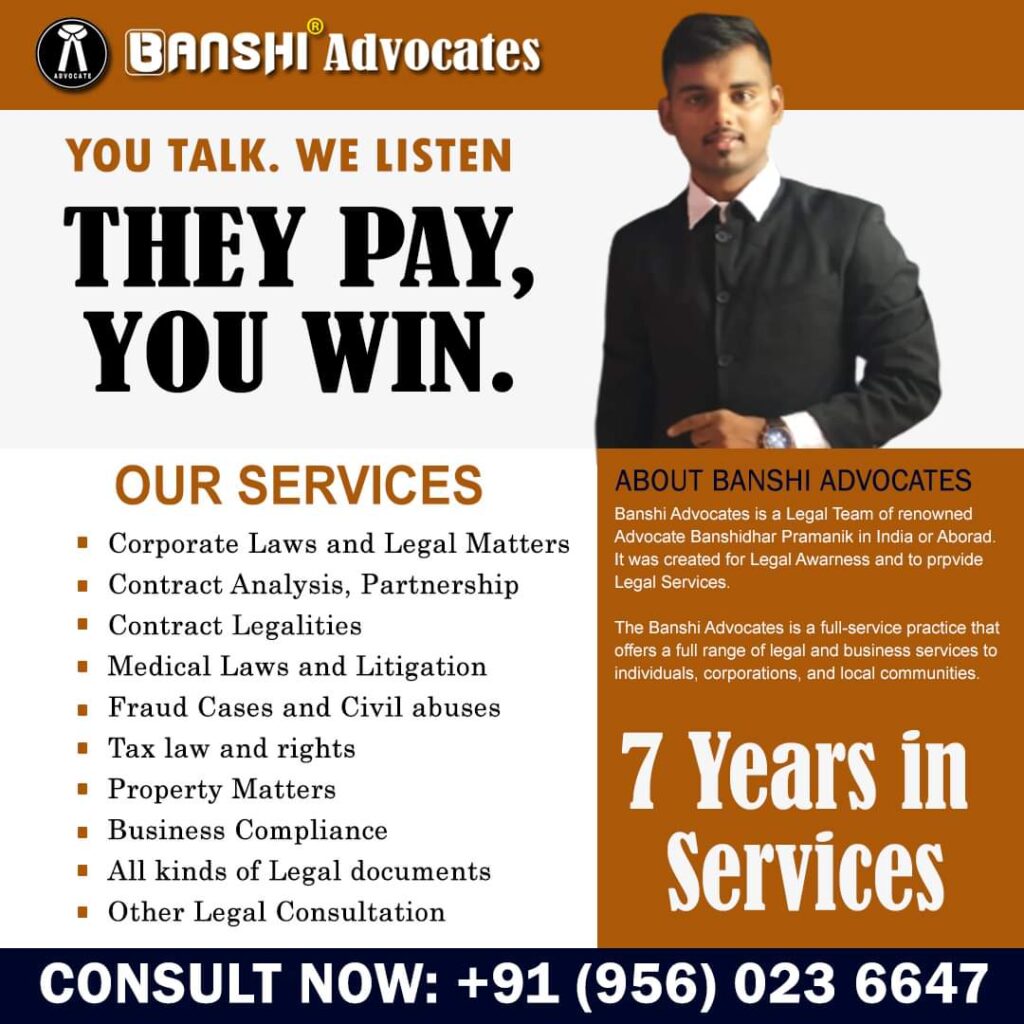 Many people want justice in their lives, but lot of them lose hope as a result of lengthy procedures, complexities, and numerous hustlers. It is a human tendency they don't want to get into things that are complicated but justice is our right and our constitution has made many laws and processes that provide justice to the citizens. An emerging advocate Bansidhar Pramanik is a Kolkata-based advocate who Specialised in constitutional and criminal law, joined the fight with the intention of upholding strict legal standards while providing equal justice to everyone.
Advocate Bansihdar Pramanik was born and brought up in Kolkata and studied B.A and L.L B. (Bachelor of Legislative Law) from the recognized university Rabindra Siksha Sammilani Law College, Kolkata. He initially established a law business called "B. Pramanik & Associates," and within a few years, he rose to prominence as B. Pramanik in the East part of India.
Advocate Banshidhar Pramanik focuses on corporate clients in complex litigation, mass tort, and product liability cases and handles all manner of issues on a local, national, and international level.
Services and Work Culture
Banshidhar Pramanik has experience working with a number of prestigious companies in India and internationally. He has represented clients in difficult commercial litigation cases before numerous Indian high courts and appellate courts.
He has defended clients in legal disputes involving personal injuries in trial courts all over India. Assist clients with their civil litigation requirements, Banshidhar Pramanik has experience conducting criminal defense cases for both corporate and private citizens accused of crimes throughout India.
Many damaged workers have received his assistance in handling the difficulties of workers' compensation rules. Numerous clients have received assistance from Banshidhar Pramanik with their workers' insurance cases.
While Training Banshidhar Pramanik handled national pharmaceutical and manufacturing labor litigation problems as a legal advisor in Kolkata and New Delhi.
He served as secretary for a well-known Honorable Advocate while still in law school. Additionally, the West Bengal government selected him as an expert member of the Digital Education Committee, which was formed to examine the difficulties encountered in West Bengal by numerous concerns (undertaken by the Central Government).
Client and work experience
Banshidhar Pramanik has given service as a legal advisor to a number of reputable companies, including MedTech Foundation (College & University), Indian Board of Computer & Cultural Education (Computer & Cultural Education), Mediasiti Entertainment Private Limited (Media & Entertainment), Globezone Logistics & Cargo Services Private Limited (Logistics & Cargo), Sizmatech Software Solutions Private Limited (IT & Software Company), and RajuHabiibs Private Limited (Hair & Beauty Salon).
Banshidhar Pramanik has been an attorney for 7 years and approaches his work with a strong sense of focus and commitment. He has handled cases in many different areas, including Delhi, Mumbai, and Kolkata. He has also participated in front of several High Courts, including Kolkata High Court, Bombay High Court, Delhi High Court, and many others.
He has expertise in preparing legal documents like contracts and agreements as well as civil litigation cases involving business conflicts, labor law issues, etc.
He has also worked on murder trials and other criminal cases for criminal litigation.
His Achievements
Banshidhar Pramanik has won numerous awards, including a Gold Medal and several certificates from the government and private organizers.
The audience awaits his thoughts and perorations in his thought-provoking statement.
Bansidhar Pramanik Expertise
Indian industrialist and lawyer Bansidhar Pramanik has founded numerous businesses and non-profit organizations that are entirely owned by them.
The best businesses in the world include Banshi Industries Private Limited, it manufactures of industrial equipment, Banshi Professional & Management Services Private Limited, It provides business services, Banshi Global Technologies Private Limited, It provides IT & software consulting services, Banshi Properties Private Limited, it develops real estate, and Banshi Media & Entertainment Private Limited, It produces television and entertainment.
He has earned a reputation as an international NGO consultant, acquired the moniker "BekarBandhu," and is now a well-known lawyer. He has also written numerous legal publications.
After founding B. Pramanik & Associates Law Firm, one of the most reputable firms in Kolkata City with a great reputation in corporate issues, civil litigation, criminal litigation, & Co., Banshidhar Pramanik practiced with the most renowned attorneys in India.
We hope that Bansidhar Pramanik will continue to handle matters for our Law & Attorney Service with the same passion and dignity that he has in the past.
Get Connected with him to know more about his Journey:-
Website: www.bpramanikassociates.com
Facebook: https://facebook.com/advocatebpramanik/