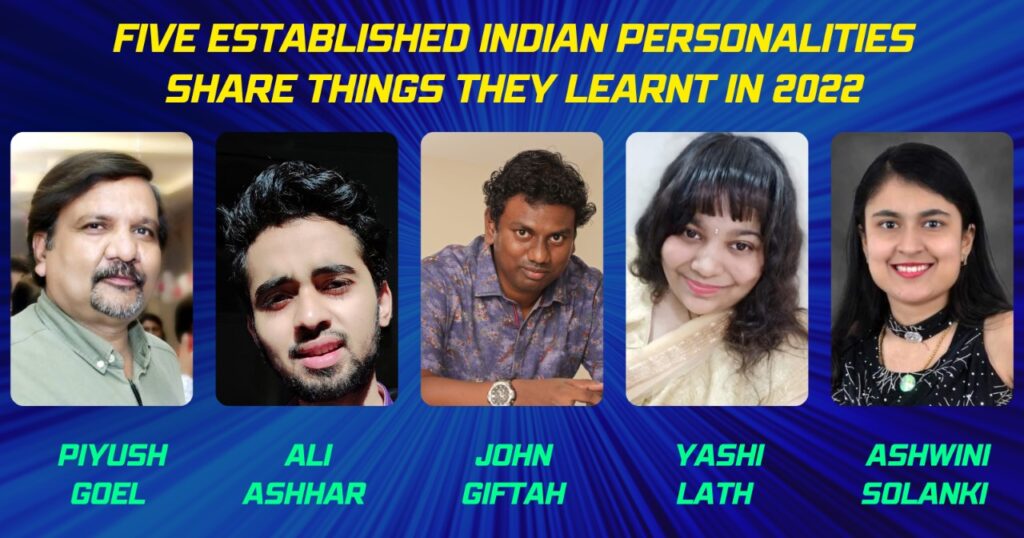 As 2023 slowly approaches, so does the recognition that most of us have made little headway on this past year's resolutions. From resolving to exercise more, eat better, and tackle a (now even longer) list of household tasks — most of us fell short of time to accomplish our resolutions. Despite this, we may also realize that certainly there were some major wins in 2022, too.
And by reflecting on these successes, five established Indian personalities share things they learnt in 2022. The personalities we will feature today are
Piyush Goel
Ali Ashhar
John Giftah
Yashi Lath
Ashwini Solanki
PIYUSH GOEL – Popular as the Mirror Image Man Of India, Mechanical Engineer, Motivator, Cartoonist, Local Cricket Umpire, and Mirror Image Writer having an experience of more than 27 years in various companies
"There are two things in life: Yes or No. If you get yes it is nice you succeed but if you get "No", do not worry it means Next Opportunity." – Piyush Goel Mirror Image Man of India
Know more about Piyush Goel – Mirror Image Man of India here
Piyush Goel is popularly known as "Mirror Image Man" by the media and the Writer of "World First Handwrite Needle Book 'Madhushala'. Piyush Goel has written several books in Mirror Image including Bhagavad Gita, Sundara Kand from Ramcharitmanas, Sai Satcharitra, Durga Saptashati, Meri Ikyavan Kavitayein by Atal Bihari Vajpayee, the former Prime Minister of India. He also wrote the world's first Bhagavad Gita in Mirror Image style reportedly by Hindustan times.
In a candid conversation Piyush Goel talks about his journey, writings, mirror-image books, and his book "Sochana too Padega hi", is a book of his own 110 Motivational Thoughts.
Piyush Goel was born on 10th Feb 1967 in the lap of Mother Ravi Kanta and Father Dr. D.K. Goel. Piyush Goel always believes in new Creation and Imagination, by profession, he is a Mechanical Engineer but by passion, he is Motivator, Cartoonist, Local Cricket Umpire, and Mirror Image Writer. He has experience of more than 27 years in Various Companies.
His three mathematics papers were published in International Research Journal. In mirror image style he has written 17 Books from 2003 to 2022. Some of the books are ShreeMadbhagwad Gita, Madhushala, Gitanjali, ChankayaNiti, Shree Sai Satcharitra, Shree Durga Kavach (Sanskrit Language), Panchtantra and Piyush Vaani with different objects like Pen, Needle, Mehandi Cone, Carbon Paper, Iron Nail, Wooden Pen, and Fabric Cone Liner.
ALI ASHHAR – A prolific poet, short story writer, philosopher and columnist
"2022 was a different year in many ways. It was the first post-pandemic year after life went off-track. One thing I learnt this year is that never take your blessings for granted. We keep comparing our lives with others, often overlooking our own blessings and strengths. You have your family, you have food in your plate, you have clothes over your skin, you have roof over your head, you have access to education. Be grateful, you are privileged enough and strive to work for the underprivileged. Quran teaches us to do good to others as God has done good to us." – Ali Ashhar
Ali Ashhar is a poet, short story writer, philosopher and columnist who hails from Jaunpur, Uttar Pradesh. His writing stint began during his college days as a literature student. He is deeply influenced by the sophistication of his mother who is a gynecologist and his guide. His works have been published in the UK, the USA, Canada, Turkey and numerous other countries around the globe in different literary journals, magazines and newspapers. He received India Prime 100 Authors Award, Elite Book Award, Ace Award and Best Debut Author Award by The Indian Awaz for his poetry collection, Mirror of Emotions. Apart from writing, he is an ardent nature-lover and football aficionado.
JOHN GIFTAH – A Top-ranking Podcaster / Bestselling Author / Award-winning Inspirational Speaker / World-Record Holder / YouTuber / Aerospace Engineer and Founder of John Giftah International.
"This year I learnt to stop restricting and limiting myself and started exploring myself and dug deeper into my talents. I was surprised to see how much further I could go and the various opportunities and connections that came my way when I broke out of the box which even took my content as far as Hollywood and all over the world!" – John Giftah
John Giftah is a Top-ranking Podcaster / Bestselling Author / Award-winning Inspirational Speaker / World-Record Holder / YouTuber / Aerospace Engineer and Founder of John Giftah International. He is an inspirational voice to multitudes around the world as he speaks through virtual and LIVE speaking engagements in conferences, podcasts, television, schools, corporates, colleges, personality-development programs, churches and various other forums.
Apart from his first book, "Who Am I?" – a book on our identity and value, his recent bestseller "Unveil Your Purpose" became a #1 New Release on Amazon in India and takes its readers on a quest to discover their purpose and to start walking in it.
He hosts "Fuel for the Soul with John Giftah", a DAILY podcast which primarily ranks as #1 Christian podcast in India and trends around the world. Apart from short solo episodes, he also has interview episodes and has hosted several world-renowned guests including Hollywood/Disney Actress Gabriella Graves, Mark Angel Comedy's lead Actor Baze 10, holly Starr, Stella Ramola Dhinakaran and Samuel Dhinakaran.
You can get more details at www.johngiftah.com and check out other details here:
YouTube channel: www.youtube.com/johngiftah
Instagram: www.instagram.com/johngiftah
Twitter: www.twitter.com/johngiftah
Fuel for the Soul with John Giftah Podcast Link: https://podcasts.apple.com/us/podcast/fuel-for-the-soul-with-john-giftah-inspirational/id1588234296
Unveil Your Purpose: https://www.amazon.in/Unveil-Your-Purpose-John-Giftah/dp/1636401376/ref=sr_1_1?crid=39RILK2TAWZI5&keywords=john+giftah+white+falcon&qid=1643804302&sprefix=john+giftah+white+falco%2Caps%2C308&sr=8-1
YASHI LATH – An award-winning author and content writer
"Another year comes to an end which gifted many valuable lessons and learnings like every year. This year I got multiple lessons with valuable learnings. This year gave me several new opportunities for expanding my talent but at the same time I discovered the real faces of several people and I realised people wear multiple layers behind their real faces you just have to use your intuition carefully for identifying them. This year also taught me that it's better to let it go rather than chasing and holding people.
Life is like a road trip and sometimes you have to enjoy the journey rather than worrying about the destination. Life can become a spiral of problems and challenges where you have to make wise choices to smoothly overcome the challenges of life. In the end, just be bold enough to make crucial decisions for your life.
Ready to welcome 2023 with new hopes." – Yashi Lath
Author Yashi Lath is from Lucknow Uttar Pradesh India, she is an award-winning author and content writer. She finds a lovely escape in reading and writing is a passion for her she
believes that writing is an emotion that gives people the freedom to express themselves. She has worked with several publication houses as a co-author and solo-published author and she has been featured in media articles and magazines at both national and international levels. Her books are available on Amazon and notion press.
Awards
1 The opus talent awards limelight awards
2 Utkalika best writer award
3 The rising stars award
4 Bhartiya youth face of India
5 Excellence awards
6 The elite book awards
7 The queen award
8 Rabindranath Tagore international festival of art and literature award
9 Bankim Chandra Chatterjee Kala Samman award
10 Literary gem awards by cherry book awards
11 – Femina awards
12 – Swami Vivekanand Rashtriya Swarna samman (National award )
13 – She inspires wonder women award
ASHWINI SOLANKI – A popular author, Artist, Tarot Card Reader
"One thing I learned in 2022 is to be organised and self discipline myself and surrender to the universe to grant my wishes" – Ashwini Solanki
Author Ashwini Solanki is the rising literary star from Silvassa. She is also an aspiring upcoming artist. Ashwini is a talented writer and her debut book Revenge is available on Amazon.
Currently, Ashwini Solanki is preparing for the Civil Service Examination to become an IAS officer. She loves coloring, solving crossword puzzles, and playing quizzes. She is an introverted type of person so she spends most of her time watching movies or watching informative videos on Youtube. While not studying, she spends most of her time surfing fashion items on the internet.
Ashwini Solanki believes that one day she will become not only a successful and renowned writer but also a well-established entrepreneur. She has the following awards and recognitions to her credit:
The Golden Arc Award as 50 rising entrepreneurs of the year
The Queen Award by the Eagle Eye Network as Top Inspiring Women of India
Best Author of the year by Indian Pride Awards
Bankim Chandra Chatterjee Kala Samman
Nominated for The Author of the Year Award by The 2 am Thoughts
Participated in anthologies Aarambh 3.0
Participated in International level writing contest Aarambh 4.0 by The 2 am Thoughts
Got media features in The Midday India, the ED Times, The Zee5 app, Foxinterviewer website, PunjabMetro, TheDailybeat website etc
Got featured in the Eagle Eye Magazine as Top Inspiring Women Of India.
Got featured in the magazine "Aspiring Achievers" as "The Unstoppable Achievers"
Got the award by Priya's Wisdom Publication as The Unstoppable Achiever.