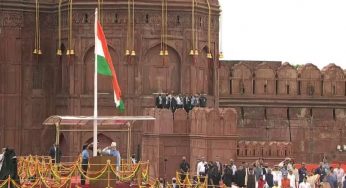 The upcoming Independence Day celebration at Delhi's iconic Red Fort is set to be a unique affair, emphasizing public engagement and participation. Prime Minister Narendra Modi will preside over the event, where around 1,800 'special guests' will join the festivities as part of the government's drive for "Jan Bhagidari," involving citizens in the governance process.
This year's guest list includes Sarpanches from dynamic villages, representatives from the Farmer Producer Organisations scheme, beneficiaries of the Pradhan Mantri Kisan Samman Nidhi Scheme and Pradhan Mantri Kaushal Vikas Yojana, Shram Yogis (construction workers) engaged in the Central Vista Project, Khadi workers, individuals contributing to the construction of border roads, Amrit Sarovar, Har Ghar Jal Yojana, as well as primary school teachers, nurses, and fishermen.
The event will also feature interactive "selfie points" dedicated to various government schemes and initiatives. These points are strategically placed at 12 locations across the capital, allowing attendees to capture moments and showcase their support for these programs.
In the spirit of promoting active citizen participation, the Ministry of Defence is conducting an online selfie contest on the MyGov portal from August 15 to 20. Participants are encouraged to take selfies at any of the 12 installations and upload them to the MyGov platform to enter the contest. Winners from each installation will be selected, with each winner receiving a prize of ₹10,000, as announced by a government release.
The Indian Army holds a pivotal role in coordinating the Independence Day festivities at the Red Fort this year. Major Nikita Nair and Major Jasmine Kaur will have the honor of assisting the Prime Minister in unfurling the National Flag.
Following the flag unfurling, two Advanced Light Helicopters Mark-III Dhruv from the Indian Air Force will perform a Line Astern Formation, showering the venue with flower petals, symbolizing the spirit of unity and freedom.
Prime Minister Modi has initiated the "Har Ghar Tiranga" movement, encouraging citizens to change their social media Display Pictures (DP) to the Indian flag from August 13 to 15. He also altered his own profile picture to the national flag, urging the public to support this initiative, which aims to deepen the bond between the nation and its citizens.
The Tiranga represents the essence of freedom and unity. Prime Minister Modi urged all Indians to participate in the "Har Ghar Tiranga" campaign, inviting them to upload their photographs with the national flag on the movement's official website.
As the nation prepares to celebrate its 76th Independence Day, the blend of traditional ceremonies, public participation, and technological engagement underscores India's continuous journey towards unity and progress.
Sources By Agencies