Dr. DR Upadhyay, 'The World Record Holder', set 132 world records for himself
On November 12, the world record songwriter and novelist Dr. DR Upadhyay announced that he has achieved 22 more world records. In a special ceremony in Kathmandu on Monday, under the chief hospitality of Nepal's First Vice President Parmanand Jha, 22 more world records of record-breaking Upadhyay were made public and handed over and the album was released. Dr. became the first vice president. Upadhyaya was handed over the certificates provided by 11 organizations that have awarded various world records and the album 'Avichchinna' was released at the ceremony. Upadhyaya, who has previously held 110 world records including the Guinness Book of World Records in various categories, has reached 132 world records.
Previously, he has set world records in various categories such as songs in 50 international languages, most articles published in daily newspapers in one day, smallest book of songs, note-size book of songs, writing 370 articles in one year, writing songs of 150 countries' tourist spots, writing the shortest song. Dr. Upadhyay on Sunday public world record 25 songs of Upadhyay Musician played melody in 25 singles, lyrics poem English alphabet A to Z, sitting on a stone on water album release, an album of 45 videos of his songs, rap songs 4/4, 2/4, 6/ In the 8th and 3/4 scales, there are songs in the genre of poetry named after people who have been in space.
Dr. Upadhyay has been awarded Everest World Record, Champion Book of World Record, Asian World Record, European Record Book, America Book of Record, The British World Record, Exclusive World Record, URF World Record, Supreme World Record, King's Book of Record, World Talent Book etc. 11 different organizations that provide the world record have provided the certificate of the world record. Dr. Upadhyay was also recently honored with Shri Dada Saheb Phalke Samman and Award in India.
At the ceremony, Radheshyam Lekali, the former president of the International Nepali Literature Society (ANESAS) and president of the Literary Journalists Association, gave a welcome and congratulatory speech, while Chudamani Devkot, the current president of the Songwriters Association, and Madhav Khanal, secretary general of the Khanal Society, also gave congratulatory speeches. Upadhyay was congratulated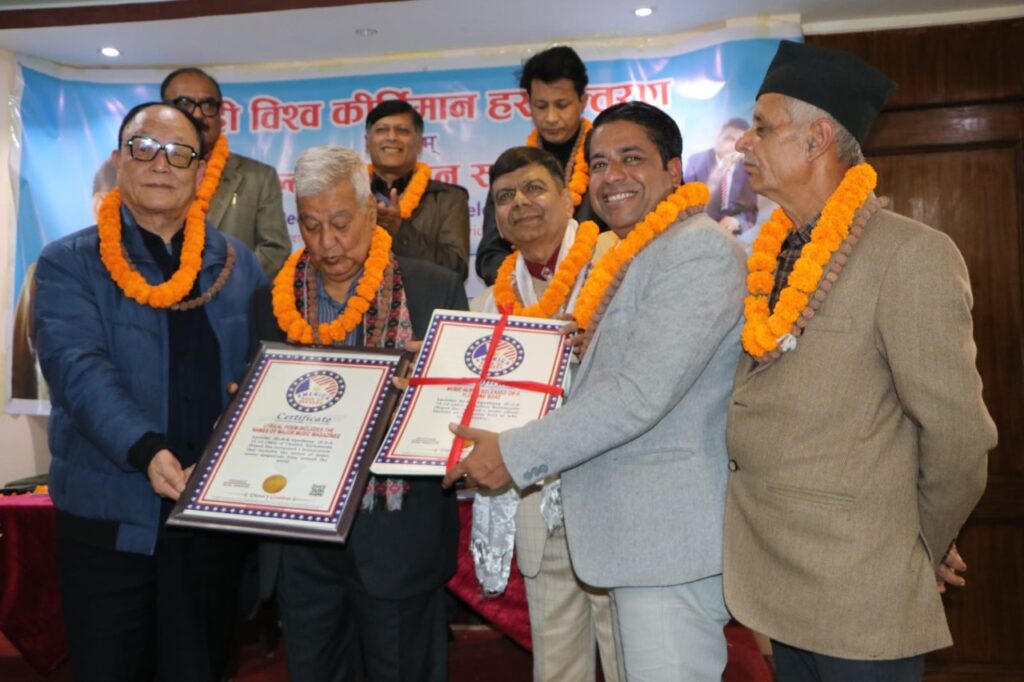 Dr. Naresh Bhattarai facilitated the ceremony. The chief guest congratulated Upadhyay and offered his best wishes. Singer and composer Sagar Adhikari 'Sharad', composer Santosh Shrestha, journalist and president of Milap Foundation Geeta Adhikari, journalist Rajendra Luintel, Subhash Pradhan, director Michael Chand, video editor Shilan Lamsal, journalists Naresh Bhattarai and Krishna Bhusal were present at the ceremony, which was attended by personalities from various fields. An Honor Certificate was awarded by The British World Records.
Dr. Four songs are included in Upadhyaya's public album 'Avichchinnan'. The album includes songs like 'Chitamathi Jalrahechu', 'Khai kastu maya base che', 'Timi Totok Wada', 'Bhavanabata Tahinda'. The songs in the album are composed by Santosh Shrestha and Sagar Adhikari, and the vocals are by Vishwa Nepali, Jagat Tiruwa, Pratap Das, Mamata Gurung and Sagar Adhikari.
The chief guest was Dr. He said that Upadhyay's actions are not only for him but also for the country. He said, 'Dr. Upadhyay or Dharmaraj Upadhyay has become a pride for the country, I wish him more and more such works in his days and I congratulate him." had done
Dr. Upadhyay said that he cannot sit still and the number of world records is increasing as surgical operations are performed differently. In the ceremony broadcasted live by NNTV, Mohan Niroula, Vice President of Nepal Film Artists Association, Senior Singer Gyanu Rana, Vice President of Songwriters Association Vasant Vityasi Thapa, Everest World Record Founder Madhura Shrestha, China Affairs Expert Dinesh Khanal, Former Chinese Official Zhen Zi Xiang, Sunita Khanal, Khanal Samaj Krishna Prasad Khanal, Pradeep Khanal and other Khanal brothers as well as distinguished personalities from various fields were present.
Read Full Article on Xpresstimes And Follow us on Instagram Xpresstimes