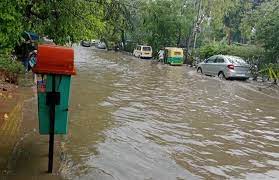 Delhi residents were taken by surprise as an unexpected downpour accompanied by strong gusts of wind hit the national capital region on Friday morning. The abrupt change in weather led to moderate rainfall, waterlogging, and traffic woes in several areas of Delhi.
Commuters faced challenges during the morning rush hour as they navigated through the rain-drenched streets, attempting to reach schools and offices. On social media platforms, such as X (formerly Twitter), local residents shared unverified videos and photos, expressing their frustration over the traffic congestion caused by the rain.
The India Meteorological Department had earlier issued warnings, advising residents to exercise caution and prepare for adverse weather conditions in the morning. The forecast for the next five days anticipates generally cloudy skies with light to moderate rainfall in Delhi.
Complaints of traffic snarls poured in from various parts of the city. One user reported "heavy traffic from Chhattarpur to Qutub Minar" in South Delhi. Another mentioned congestion at the Dwarka underpass heading towards the Kapashera junction, noting that traffic issues in this area were recurrent.
In Mausam Vihar, near DAV School, a user complained about "heavy traffic congestion" and sought intervention from Delhi's traffic authorities. Another user shared a video of "standstill traffic near Noida's Amity International School in Sector 44."
The traffic woes extended to Noida Extension, where complaints cited the absence of traffic police and wrong lane driving contributing to delays in the rainy conditions. A resident lamented the recurring traffic jams in Gaur City 2, Noida Extension, emphasizing the need for a permanent solution.
Acknowledging the situation, both Delhi and Noida traffic police assured residents that relevant authorities were actively addressing the traffic issues caused by the unexpected downpour.
Sources By Agencies