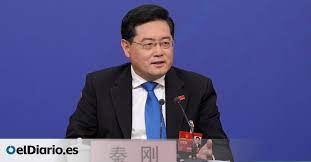 China's foreign minister Qin Gang has been removed from office, as reported by state media on Tuesday. His removal came after he had not been seen in public for a month, leaving the nation in suspense about his whereabouts and status.
According to the state media outlet Xinhua, China's top legislature voted to appoint Wang Yi as the new foreign minister during a convened session on Tuesday. The report did not provide a specific reason for Qin Gang's removal, but it revealed that President Xi Jinping signed a presidential order to enact the decision.
Qin Gang's absence from public appearances since June 25 raised significant speculation about his fate. During his last known public engagement, he met with Russia's deputy foreign minister Andrey Rudenko in Beijing. His sudden disappearance fueled rumors that he might have been removed from office or subjected to an official investigation.
As a confidant of President Xi Jinping, many analysts had attributed Qin Gang's swift rise through the diplomatic ranks to his close relationship with the Chinese leader. However, official information surrounding his absence remained scarce until the recent announcement of his removal.
In Qin Gang's absence, Wang Yi, China's top diplomat who leads the ruling Communist Party's foreign policy, had taken on his duties. Wang Yi outranks Mr. Qin in the government hierarchy and now assumes the role of foreign minister with the official appointment.
It is worth noting that Qin Gang had replaced Wang Yi as foreign minister in December of the previous year, making his sudden removal from the position even more surprising.
China's top leadership has maintained silence on the matter for weeks, leaving the public and international observers curious about the circumstances surrounding Qin Gang's departure. However, with the appointment of Wang Yi as the new foreign minister, the government seeks to maintain stability in its diplomatic operations.
As Wang Yi takes the helm of the foreign ministry, China looks to continue its foreign policy agenda, but the reasons behind Qin Gang's removal and his future plans remain undisclosed.
The swift leadership change in China's foreign ministry underlines the dynamics of the nation's political landscape, where official positions can shift without much public disclosure. The focus now shifts to observing Wang Yi's actions as he assumes the responsibilities of foreign minister, shaping China's international engagements in the days to come.
Sources By Agencies