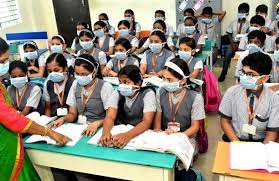 In a significant move, the Central Board of Secondary Education (CBSE) has introduced a groundbreaking change, allowing affiliated schools to use the mother tongue as an optional medium of instruction from the pre-primary stages to Class 12. This decision aligns with the provisions of the National Education Policy (NEP) 2020, which emphasizes the cognitive benefits of multilingualism for young learners, especially when they are exposed to multiple languages from a foundational stage, with a specific focus on their mother tongue.
According to the CBSE circular dated July 21, the affiliated schools can now consider using any of the Indian languages listed in Schedule 8 of the Indian Constitution as the medium of instruction from the Foundational Stage till the end of the Secondary Stage, encompassing pre-primary classes through class XII. This option is provided in addition to the existing language choices.
Acknowledging the challenges of implementing multilingual education, such as the availability of skilled teachers, appropriate textbooks, and time constraints, the CBSE has encouraged schools to explore available resources, seek guidance from experts, and collaborate with other educational institutions to share best practices.
The Ministry of Education has taken a significant step in supporting this initiative by directing the National Council of Educational Research and Training (NCERT) to develop new textbooks in 22 scheduled languages. These textbooks are expected to be made available to students from the upcoming academic sessions, further enhancing the accessibility of mother tongue-based education.
The focus on promoting Indian languages as mediums of instruction extends beyond school education to higher education as well. CBSE highlighted that higher education institutions are also actively embracing Indian languages through the production of textbooks and utilizing these languages for instruction and examination. The seamless continuation of using mother tongues as the medium of instruction from school to higher education is seen as a critical aspect of this approach.
The CBSE's decision to allow the use of mother tongues as the medium of instruction reflects a progressive and inclusive stance towards fostering linguistic diversity and promoting cultural inclusivity in the Indian education system. This move is expected to empower students with a strong foundation in their mother tongue while also encouraging the use and preservation of Indian languages in educational settings.
Sources By Agencies