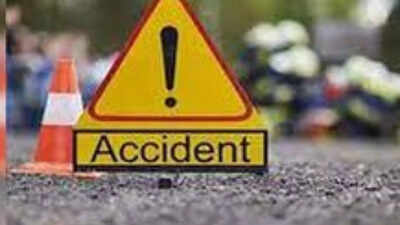 Budaun, Uttar Pradesh – In a harrowing incident, a bus carrying 50 passengers collided head-on with a truck near the Hayatnagar bridge in Budaun's Alapur area, resulting in injuries to at least 30 individuals. The mishap occurred in the early hours of Saturday, causing severe damage to the front portions of both vehicles.
The ill-fated vehicle belonged to the Uttar Pradesh State Road Transport Corporation and was en route from the Hardoi depot to Delhi when the accident took place. According to Superintendent of Police (City) Amit Kishor Srivastava, the collision transpired around 2 am, shaking the quietude of the otherwise serene region.
In the aftermath of the accident, emergency services were promptly dispatched to the scene to provide aid to the injured passengers. The impact of the collision left 20 individuals with serious injuries, while the remaining 10 suffered comparatively milder wounds. All injured passengers were expeditiously transported to nearby hospitals for medical treatment.
The collision between the bus and the truck resulted in significant damage to the front sections of both vehicles, bearing testament to the force of the impact. Preliminary investigations suggest that the collision was a head-on collision, though the exact circumstances leading up to the accident are yet to be ascertained.
Local authorities and law enforcement agencies swiftly arrived at the scene to assess the situation and carry out necessary procedures. The injured passengers are receiving appropriate medical attention, and their condition is being closely monitored by healthcare professionals.
Officials from the transport corporation and the police have initiated an investigation into the incident to determine the factors contributing to the collision. They will be examining aspects such as the condition of the vehicles involved, adherence to traffic regulations, and any potential driver negligence.
The incident serves as a grim reminder of the importance of road safety and adherence to traffic rules. Authorities have urged motorists to exercise caution while driving and maintain awareness of their surroundings to avoid such unfortunate accidents.
As the injured victims battle to recover from their injuries, thoughts and well-wishes pour in from the community, hoping for their swift recuperation. The incident has once again highlighted the need for enhanced road safety measures and stricter enforcement of traffic regulations to prevent such incidents in the future.
Sources By Agencies