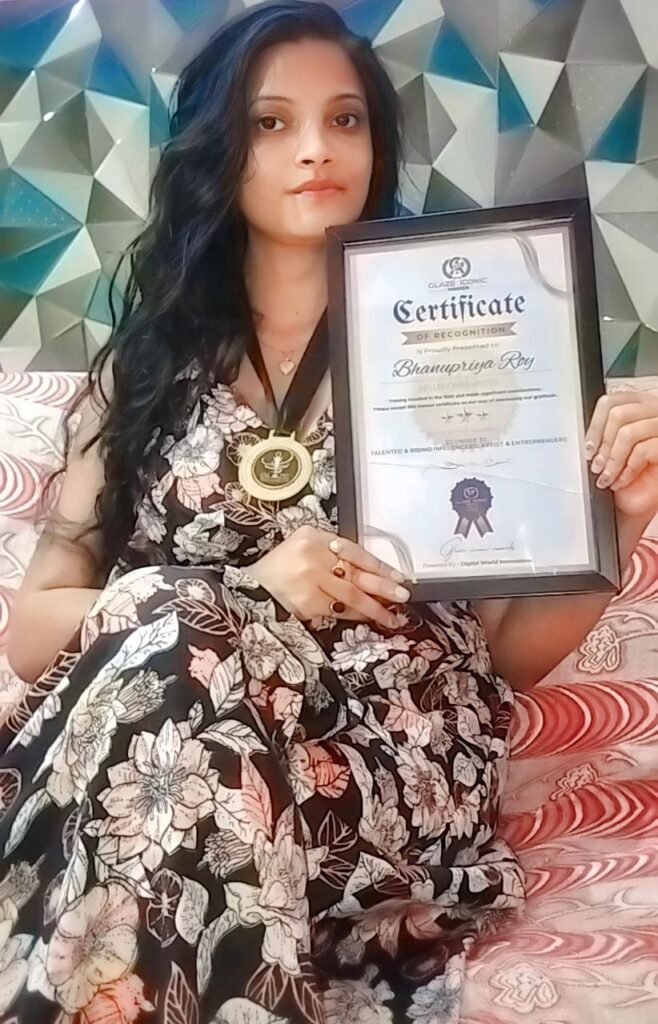 Bhanupriya Roy, a multitalented artist from Lumding, Assam, has been making a name for herself in the world of music and writing. Her passion for singing and writing has led her to win numerous awards and recognition in her community, including the Bangiyo Sangeet Parishad 2010 and the IAC International Artists Award 2023.
Bhanupriya's love for singing started at a young age. She has recorded two cover songs and has her own music channel on YouTube, where she shares her soulful renditions with her fans. Her goal is to establish a singing institute in the future, where she can help aspiring singers achieve their dreams.
Apart from singing, Bhanupriya is also an accomplished writer. She is affiliated with Amazon KDP as an e-book writer, and her first poetry was published in Juga Shankha Newspaper in Bengali language in 2014. Her poetry has also been featured in various magazines.
Bhanupriya's mission is to empower people and make them financially independent through their hobbies. She believes that if people use their hobbies properly, they can achieve great things in life. Her vision and mission are one – to inspire people to follow their passions and achieve their dreams.
As a multitalented artist, Bhanupriya's work ethic and dedication have led her to achieve success in both her singing and writing careers. Her passion for music and writing has been a driving force in her life, and she continues to inspire others with her talent and vision.
Bhanupriya's story is a testament to the power of perseverance and following one's passions. She serves as an inspiration to all those who wish to pursue their dreams, no matter how big or small. Her dedication to her craft and her mission to empower others make her a true leader in the world of art and literature.