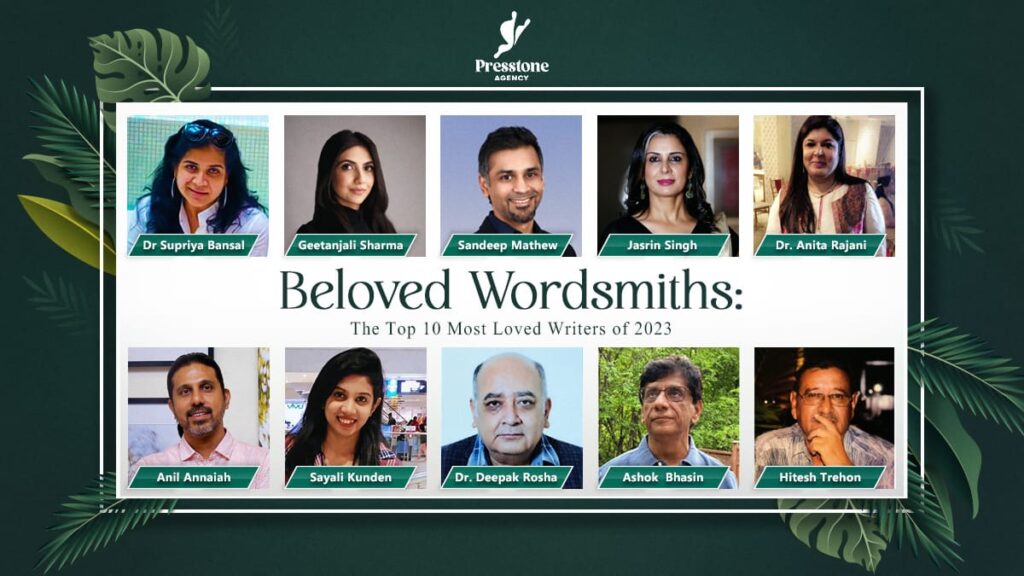 In the ever-evolving world of literature, Presstone has unveiled a constellation of brilliant wordsmiths whose literary prowess has captured the hearts of readers worldwide. In this article we embark on a literary journey to celebrate and recognize these exceptional authors who have penned stories that resonate deeply with our souls. From enchanting tales of magic to thought-provoking narratives on the human experience, join us as we explore the diverse voices shaping contemporary literature in this exciting new era.
Dr Supriya Bansal
Supriya Bansal, a gold medalist in her graduation and post-graduation degrees, found her second calling as an author after more than twenty-five years into her medical career. Her short stories and poems have been featured in over Thirty anthologies, and her debut book is soon to be released. She won Orange Flower Award for short fiction for two successive years. She was featured in India Today as one of the 'Top Eight Emerging Indian Women.' Prominent literary magazines have featured her in the list of Top 50 Indian writers. A lectiophile and a bibliophile, the mother of two, treads a tightrope, balancing work, family, and her creative interests. She delights in reading, spinning, and penning down stories with a twist.
Geetanjali Sharma
A communication specialist turned writer, Geetanjali Sharma did her post-graduation in International Communication from Macquarie University, Australia. Her debut book 'When You Know, You Know' showcases the author's understanding of life.
She writes under the pen name 'Gauri Budh'. The book focuses on – 'Figuring out people, 'Figuring out life, and ultimately 'Figuring out self'. The author recounts personal experiences that she has had with people, altering her perspectives. She urges the reader to keep an open mind while reading her book. She believes that by figuring out the self guide you find your purpose which ultimately helps you to evolve.
Sandeep Mathew
Sandeep Mathew has spent the last 15 years working as a Sales & Marketing professional for Unilever across Asia, Europe, and Africa. Beyond his corporate endeavors, Sandeep is a real travel enthusiast. Currently residing in the Netherlands, he has skillfully embraced the world of vlogging to share his captivating journeys and adventures with fellow people. Additionally, he blogs and writes marketing-related articles in his spare time. Sandeep Mathew authored his debut book, "Gin Soaked Boy," after having first-hand witnessed the gradual effect depression has on an individual. Gin Soaked Boy is thus an attempt by Sandeep Mathew at preventing another loss of life to depression, as he hopes to generate awareness regarding mental health and help individuals in discerning it.
Jasrin Singh
Author of 'Blueprint of the Authentic You', Jasrin Singh is also a keynote speaker and life coach(PCC, ICF). An inspired writer and strategic thinker, her life mission is to advance humanity by helping people heal past pain and manifest their full potential. Her business background combined with a keen understanding of humanity, strengthened by intuitive wisdom allows her to be an excellent person to nurture people towards finding their purpose. Spirituality plays a large part in her writing as all of her creative works are usually divinely inspired. She also works with both men and women leaders to create a leadership style(Soft Power) that fosters excellence. She splits her time between Singapore and India.
Dr. Anita Rajani
Dr. Anita Rajani is a PhD in Inner Child Integration Therapy and an Author of 2 books. She has culminated all her years of learning different modalities like Hypnotherapy, Past Life Regression, Inner Child Integration and experience into writing. She has published her book "Shivshakti – The Continous Continuum" and "Inner voice – A "Collection of Transformational Messages" She has contributed in 7 Anthologies. She has also published a deck of Sai Baba Guidance cards in three languages English, Hindi and Marathi and a deck of Affirmation cards. She conducts various self modules courses and meditations. Her goal is to spread knowledge and healing. Her third book The Awakened Sai Within You- Babas answers to your questions, is due to be released soon.
Anil Annaiah
Founder of Annleela Visual Solutions and Annleela Films, as well as the creator of the Brand Radianz – Me The Changemaker and A New Life Pledge, has spent the last two decades contributing to various fields as an Ideator, Photographer, Artist, Writer, Podcaster, and Filmmaker. His journey began in 2001 with a quest to understand the meaning of human existence and how to benefit humanity's evolution positively. He believes in the transformative power of words, as evidenced by his eight authored books available on Amazon Kindle. These books, including "Nobody Speaks To Me," "Simple Perceptions," "Tiny Pathways," "My Mirror," "New Clouds," "Open Windows," "Our Horizons," and the latest release, "Wide Canvas," aim to offer new perspectives, enhance mental health, boost confidence, and bring joy to everyday life. It is his hope that his words will inspire and guide readers towards achieving their goals and fostering positivity.
Sayali Kunden
In "Welcome to Life of an Employee," author Sayali Kunden tells the compelling story of a young woman from Pune. With a background in film industry and a lifelong battle with epilepsy, Sayali dreams of securing an IT job in Bangalore. As she enters the corporate world, she grapples with both family business politics and the ruthless corporate environment. The book explores the impact of the US recession on her career and her relentless pursuit of growth within the organization. With determination and resilience, Sayali strives to earn respect in her chosen profession, highlighting the challenges faced by individuals navigating corporate politics. Kunden's narrative captivates readers, shedding light on the struggles, triumphs, and transformation of an inspiring protagonist.
Dr. Deepak Rosha
Dr. Deepak Rosha, a pulmonologist at Indraprastha Apollo Hospitals, has been writing since his school days. Amidst his busy schedule, he found solace in penning poetry and eventually self-published a collection titled 'So much to say.' Despite having ideas for novels, his research papers and academic commitments took precedence. However, the COVID-19 pandemic provided him with the time to write. He has already written five books, three of which have been published, featuring different stories with an easy, ironic, and humorous style. The upcoming books include 'Raja of Nowhere' and 'The Saga of Spy X13.'.
Ashok Bhasin
Ashok Bhasin is an author whose journey from Hindu College to the Customs & Central Excise department shaped his brilliant mind. Fueling his passion for knowledge, he pursued further studies and did his M.A. in Philosophy and LL.B. from DU. The author started his advocate practice in 1996, enrolling himself under the Bar Council of Delhi. He is a member of the Delhi High Court and Supreme Court Bar Association. A recipient of the President of India Award, he has in-depth knowledge of manners of investigation, and his experience at court inspired him to write thrillers full of mystery, suspense, and intrigue. The author has written captivating books like It was not Gold, Stupid Lawyer, and Chapter 31 acclaimed by readers worldwide.
Hitesh Trehon
Hitesh had a chequered life which took a turn after he joined the Merchant Navy and later commanded ships.Trehon quit sea life and set up a shipyard to build close to 100 ships for which he was awarded the ' Lifetime achievement award for Outstanding Contribution to the Maritime Industry' by the Mercantile Dept. of India. At the peak of his flourishing business, Hitesh handed over the reins to his two sons to pursue his passion to write fiction novels. His 4th novel ' A burial in my backyard ' is due for launch by the end of Oct 23.