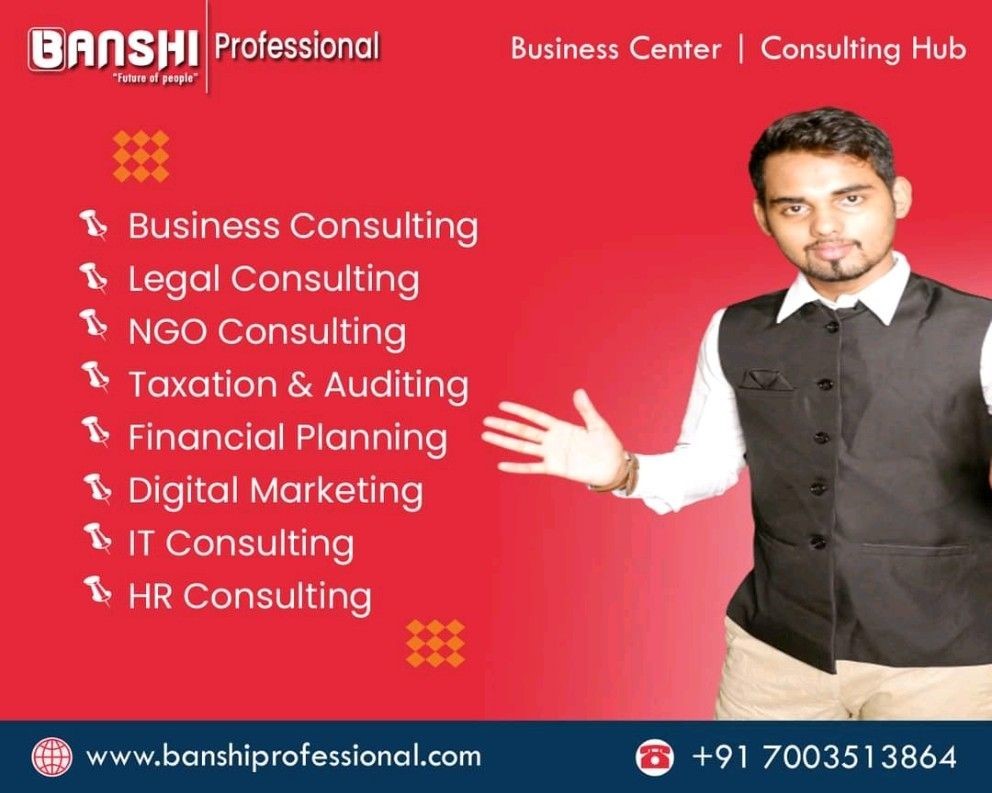 Business Consulting is necessary for a variety of tiny start-ups to understand business and expand. Banshi Professional is one of those offering consulting to various emerging companies and start-ups.
Banshi® Professional is a consulting and management firm with a heavy emphasis on professional business consulting, legal and commercial counselling, marketing, and sales.
As a business consultant, they give you all the information and guidance you need, including where to invest and how to attract additional clients. They also cover how to establish and run your firm.
Our History
Banshi® Professional started 16 years ago and has defeated various clients. They are serving for more than a decade as a professional and management consulting firm that provides services in a variety of industries, including legal, business, auditing, Business Strategy, Business Planning, Home Service, Human Resources, Digital Marketing, finance and IT consulting. Their clients really value our services because they are both high-quality and affordable.
All the business consultants on the Banshi® team have advanced degrees and years of expertise in the management, finance, and legal fields. They can provide qualified advice to people and businesses, charities, and big businesses looking for a competitive edge.
Banshidhar Pramanik is an Indian Advocate who was founded this Company to provide Corporate Legal Services & Auditing Services for Start-up and established business.
Market Capture
They have done work for start-ups in the manufacturing and service industries as well as for retailers and wholesalers. Being a business consulting firm, they virtually cover the whole Indian business market.
As a full-service business consultancy and advisor, we've satisfied the needs of emerging and expanding businesses as well as those that are already established.
In India, we have provided their services in both small towns and large cities, including Delhi, Mumbai, Kolkata, and Rajasthan.
Banshi® Professional Consultancy has a strong client base and a solid market presence, which motivates us to strive more in the sector.
They differ from others since we use different working techniques and different approaches.
Success Ratio
They are happy to announce that up to 80% of the clients they have worked with have seen success and continued growth in their respective industries. Whether they belong to IT industry, legal industry & digital marketing, etc.
Why Us
It's a wise choice to opt for us for your business and consultancy to receive good outcomes in business.
Banshi® Professional is one of the leading firms in the sector and a consulting and management company with a strong emphasis on professional business consulting, legal and commercial counselling, marketing, and sales. Their consultants have been carefully chosen and are industry experts with years of experience. Knowledge, in their opinion, is the secret to their customer's success. They can assist you in making the necessary moves if you want to grow into a new market or just want to improve the performance of your firm.
Connect with us to grow your business and to have better opportunities.
Banshi Professional & Management Services Private Limited
Address: PS Qube Building, 5th Floor, Chinarpark, New Town, Kolkata – 700156, West Bengal, India
Mail: info@banshiprofessional.com
Customer Care Number: +91(700) 351 3864
Whatsapp Support: https://wa.me/917003513864/
Facebook: https://facebook.com/banshipro/
Banshi Professional Business Consulting Firm | Business Centre in Indian Start-up and Established Entrepreneurs | Business Consulting | Legal Consulting | NGO Consulting | Taxation & Auditing | Financial Planning | Digital Marketing | IT Consulting | HR Consulting | Property Consulting
Best Company Registration Lawyer in India | Best Property Registration Lawyer in Kolkata | Best NGO Registration Lawyer in India | Best Legal Services & Auditing Company in India