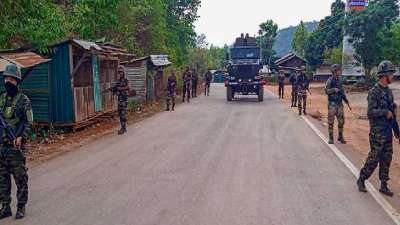 In a significant security deployment change, the Assam Rifles has been replaced by the Central Reserve Police Force (CRPF) at a strategically important checkpoint in Moirang Lamkhai of Manipur's Bishnupur district. The decision comes in the wake of escalating protests by hundreds of women activists across several locations, accusing the Assam Rifles of brutality towards civilians in the valley districts.
The Assam Rifles, which operates under the administrative control of the Union Home Ministry while the Army retains operational control, has faced criticism and allegations of harsh treatment. This shift reflects the ongoing security challenges in Manipur.
The Additional Director General of Police (law and order) of Manipur issued an order on Monday, announcing the immediate replacement of the 9 Assam Rifles unit with police and CRPF units at the highly tense checkpoint along Bishnupur-Kangvai Road.
Tensions have been mounting, with numerous videos circulating on social media platforms depicting heated arguments between Assam Rifles personnel and Manipur police commandos over the past three months. This exchange of words highlighted the strained relationship between the two forces.
Meira Paibi, a vigilante group of Meitei women, took a stand against the Assam Rifles by organizing protest demonstrations across five districts of Manipur Valley. They alleged that the paramilitary force had subjected the Meitei people to "unleashed atrocities."
Hundreds of women rallied with placards and banners in hand, demanding the withdrawal of the Assam Rifles from five valley districts, namely Imphal East, Imphal West, Thoubal, Bishnupur, and Kakching.
The shift from Assam Rifles to CRPF underscores the evolving security dynamics in Manipur. The state, currently hosting around 130 companies of central forces, remains a focal point for security management, with protests and public sentiment playing a crucial role in shaping deployment decisions.
As Manipur witnesses this significant transition, the impact on security and public sentiment remains a topic of close scrutiny.
Sources By Agencies