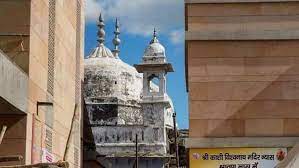 In a significant development, the Allahabad High Court has given its approval for a 'scientific survey' of the Gyanvapi Mosque in Varanasi to ascertain whether it was constructed over a Hindu temple. The survey, conducted by the Archaeological Survey of India (ASI), resumed amidst tight security arrangements, and representatives of the Hindu petitioners were present during the process.
Here are ten key points on this noteworthy story:
The Allahabad High Court ruled in favor of the 'scientific survey,' deeming it necessary in the interest of justice.
Commencing around 7 am, the ASI team, accompanied by the Hindu petitioners, entered the mosque complex to carry out the survey.
Several BJP leaders have welcomed the court's decision, expressing hope that the truth regarding the temple's existence at the site will now be revealed.
However, the mosque committee has challenged the ruling in the Supreme Court and boycotted the survey.
One of the Hindu parties involved in the case filed a caveat in the Supreme Court to ensure their right to be heard before any further orders are passed.
The Hindu petitioners maintain that a temple once stood at the location, but it was destroyed during the 17th Century under the orders of Mughal emperor Aurangzeb.
Previously, the Supreme Court had prohibited any survey within the mosque complex. Notably, the 'wazukhana' area, where the petitioners claimed to have found a 'shivling,' will not be included in the fresh survey, in accordance with the Supreme Court's order.
The 'scientific survey' was initially ordered by a Varanasi district court on July 21 after four women filed a petition seeking to establish if the mosque was constructed after demolishing a Hindu temple.
The survey had initially commenced on July 24, but it was promptly halted by the Supreme Court following an appeal from the mosque committee.
The mosque committee argued that the structure is over a thousand years old, and any excavation work might destabilize it, leading to potential collapse. The committee further contended that such a survey would violate existing laws governing religious places.
As the 'scientific survey' progresses, this highly contentious and emotive issue continues to draw widespread attention and debate across the nation. The survey's findings may potentially shed light on the historical origins of the Gyanvapi Mosque, influencing the cultural and religious landscape in the region.
Sources By Agencies