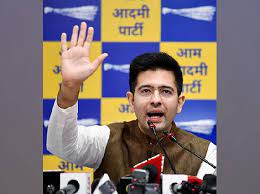 New Delhi, India – Raghav Chadha, a prominent leader of the Aam Aadmi Party (AAP), made a significant alteration to his social media profile in response to his recent suspension from the Rajya Sabha. On X, formerly known as Twitter, Chadha updated his bio to read "Suspended Member of Parliament." This move came just a day after he was suspended from the Upper House following allegations that he named fellow Members of Parliament (MPs) in a house panel without obtaining their consent.
Chadha's suspension was initiated on the grounds of "gross violation of rules, misconduct, defiant attitude, and contemptuous conduct," pending a report by the privileges committee. The suspension, proposed by Leader of the House Piyush Goyal, was prompted by Chadha's inclusion of certain MP names in a proposed select committee for the Government of National Capital Territory of Delhi (Amendment) Bill, 2023.
In response to his suspension, Chadha issued a statement denouncing the decision as an attempt to silence him and the youth who dare to question the government's actions. He expressed that his suspension was a result of his vocal criticism and inquiries during his speech in Parliament on the Delhi Service Bill.
Chadha's statement read, "My suspension serves as a stark message from the BJP to today's youth: If you dare to ask questions, we will crush your voice… The fact that a 34-year-old MP showed them a mirror and held them accountable, left them scarred."
Chadha's suspension follows the suspension of another AAP MP, Sanjay Singh, during the Monsoon session of Parliament that commenced on July 20 and concluded on Friday. Sanjay Singh's suspension, initially enforced on July 24, was further extended pending the privileges committee report.
This series of suspensions highlights the ongoing tensions and political dynamics within the Indian parliamentary system. As both sides of the political spectrum continue to engage in heated debates and disputes, the effects of these suspensions on the political discourse and the Parliament's functionality remain under scrutiny.
Chadha's social media bio update reflects the impact of his suspension on his public image, underlining the significance of this parliamentary action in the larger context of Indian politics. The incident serves as a reminder of the fine line between political expression and parliamentary decorum in a democratic society.
Sources By Agencies