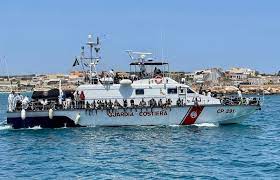 In a heart-wrenching incident, a shipwreck off Italy's Lampedusa Island has resulted in the tragic loss of 41 migrants' lives, according to a report from the Italian news agency Ansa. The incident serves as a stark reminder of the perilous journey that many migrants undertake in search of better opportunities and safety.
The shipwreck took place in the central Mediterranean, a route frequently used by migrants attempting to reach Europe from North Africa. Ansa reported on Wednesday that survivors of the shipwreck, who had just reached the shores of the Italian island of Lampedusa, recounted the devastating events that unfolded.
Survivors recounted that the ill-fated boat had departed from Tunisia's Sfax, a known hotspot in the migration crisis. The vessel, carrying a total of 45 people, including three children, set sail on Thursday morning. Tragically, the boat capsized and sank merely a few hours into its journey.
The survivors, who managed to escape the shipwreck, shared the harrowing account of the incident with rescuers. Their testimonies shed light on the desperate circumstances faced by migrants as they embark on treacherous voyages across the Mediterranean. The survivors' stories underscore the critical need for safer and more humane migration options.
The incident highlights the ongoing challenges posed by irregular migration routes, as migrants risk their lives in overcrowded and often unseaworthy vessels to seek refuge in Europe. The tragedy serves as a somber reminder of the urgent need for international cooperation to address the root causes of migration and provide safer alternatives for those seeking a better life.
As the world mourns the loss of these 41 lives, the incident underscores the importance of continued efforts to prevent further tragedies on the perilous journey undertaken by migrants in pursuit of hope and opportunity.
Sources By Agencies