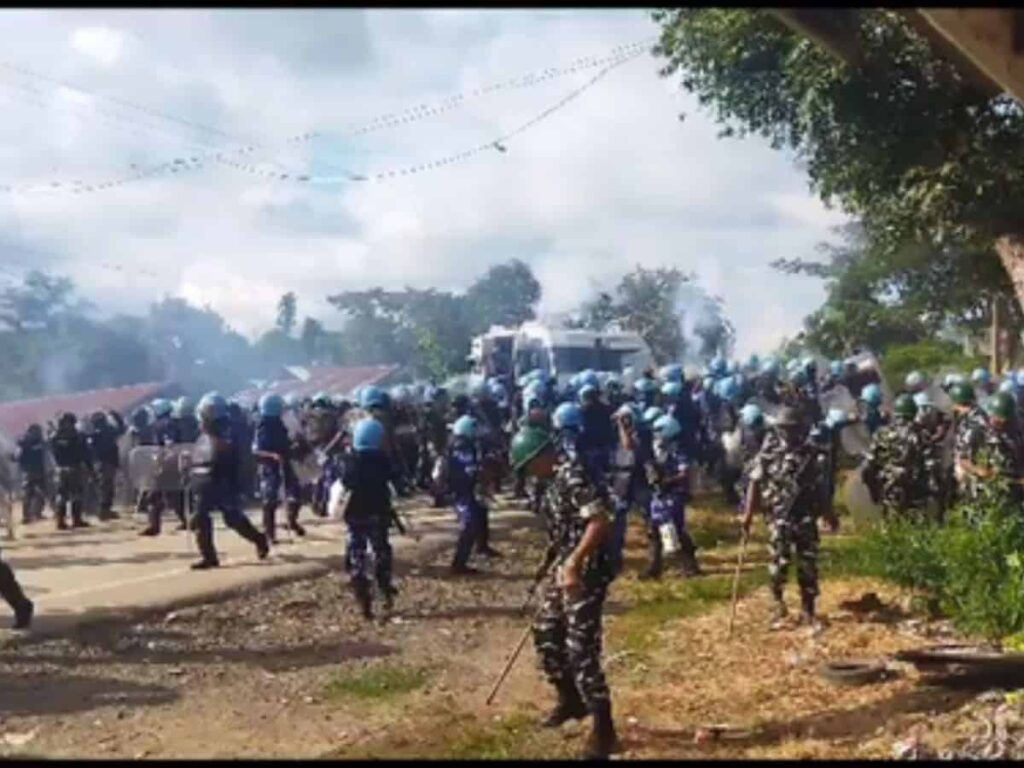 In a fresh outbreak of violence in Manipur, at least two people have lost their lives, and more than 50 have been injured as a result of clashes between armed locals and security forces. The intense exchange of gunfire has been ongoing since morning, primarily in the Tengnoupal and Kakching districts of the northeastern state, according to government sources. It was reported that around a dozen individuals sustained gunshot injuries during the clashes, which initially erupted near Pallel town following a confrontation between locals and Assam Rifles personnel.
Sources suggest that women from the area had reportedly blocked a road, leading to the tense situation. In response, security forces resorted to using force to disperse the crowd. Visuals from the scene depicted ambulances rushing to provide medical aid to the injured, including security personnel.
Security reinforcements have been dispatched to the area, and a curfew has been reimposed in the valley region of the state beginning at 12 pm today. The conflict has been exacerbated by tensions between the Kukis and Meiteis communities, both of whom have accused each other of initiating the attack.
Officials reported that the gunfire began around 6 am and has continued sporadically throughout the day. Kukis claim that Meiteis, dressed in military attire, attacked Pallel, forcing villagers to seek refuge at a nearby army camp. The violence resulted in the loss of one Assam Rifles soldier and one Kuki individual's life.
Ginza Vualzong, spokesperson for the Indigenous Tribal Leaders' Forum (ITLF), stated, "We've heard that six Meiteis dressed in military outfits have been killed. There was a peace agreement between Kukis and Meiteis in Pallel, but it was broken by the Meiteis after gunfire."
On the other hand, Meiteis allege that tribal groups could have initiated the gunfire and that the torching of two Meitei houses was the first sign of provocation from Chin-Kuki groups. "Gunshots from the hill range could have been initiated and provoked by the Chin-Kuki narco-terrorist groups…It seems that this is a pre-emptive strike. It is also clearly an attempt to draw the attention of visiting G20 delegates, who are top leaders of 20 countries visiting India," said Atouba Khuraijam, spokesperson of the valley-based Coordinating Committee on Manipur Integrity (COCOMI).
This incident follows the recent gathering of thousands of protesters at Phougakchao Ikhai in Bishnupur district, who attempted to break through army barricades to reach their deserted houses in Torbung. The situation escalated, leading to security forces using tear gas shells to regain control.
The ongoing conflict in Manipur stems from protests against a Manipur High Court order that recommended Scheduled Tribe status for Meiteis. This has led to ethnic tensions and conflicts, resulting in over 180 casualties and thousands of internally displaced individuals. Security forces have established "buffer zones" to prevent further clashes between Meitei villages and Kuki settlements.
Meiteis account for approximately 53 percent of Manipur's population, primarily residing in the Imphal valley, while tribal communities, including Nagas and Kukis, make up 40 percent of the population and predominantly inhabit the hill districts.
Sources By Agencies