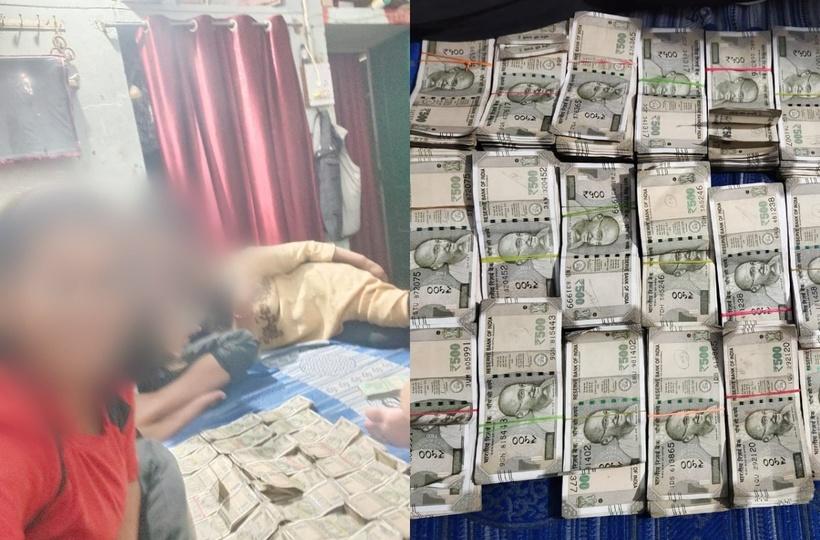 A police officer in Uttar Pradesh's Unnao district found himself in hot water after a selfie taken by his wife and children with bundles of Rs 500 notes went viral on social media. The photograph, showing the family posing with a staggering amount of cash worth Rs 14 lakh, raised eyebrows and triggered an immediate investigation.
The officer in question, identified as Ramesh Chandra Sahani, was serving as the station-in-charge in Unnao. However, following the circulation of the photograph, senior police officials swiftly ordered his transfer to police lines pending the investigation into the matter.
The selfie, taken on November 14, 2021, according to Sahani's statement, shows his wife and two children sitting on a bed surrounded by 27 bundles of Rs 500 notes. The image caused a stir on social media platforms, attracting widespread attention and raising questions about the source of the significant sum of money.
While the investigation is ongoing, Sahani defended himself by stating that the cash depicted in the photograph was obtained from the sale of a family property. However, authorities are examining the legitimacy of the claim and scrutinizing the officer's financial transactions to ensure transparency and accountability.
A senior police officer involved in the case confirmed that they had taken note of the viral photograph and initiated an investigation into the matter. The transfer of Sahani to police lines aims to ensure an unbiased probe into the incident.
The incident has once again shed light on the importance of maintaining the integrity and ethical conduct of police officers, who are entrusted with upholding the law and serving as role models for the community. Instances like these not only tarnish the image of the police force but also erode public trust in the system.
As the investigation progresses, authorities will determine whether any misconduct or wrongdoing occurred in relation to the source of the cash seen in the selfie. The outcome of the investigation will shape the future course of action for Ramesh Chandra Sahani, and the incident serves as a reminder to all officers of the need to uphold the highest standards of professionalism and integrity.
In conclusion, the selfie taken by the wife and children of a police officer in Unnao, Uttar Pradesh, with bundles of Rs 500 notes has triggered an investigation and resulted in the officer's transfer. The incident underscores the significance of maintaining ethical behavior within the police force and highlights the importance of transparency and accountability in handling large sums of money.
Sources By Agencies