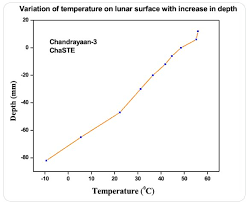 Chandrayaan 3, India's lunar mission, has delivered unexpected insights into the moon's climate as its first findings reveal an astonishing temperature variation on the lunar surface. The recorded high temperature of 70-degree Celsius near the surface has caught scientists by surprise. The observations were made by the Vikram payload of Chandrayaan 3, focusing on the south pole of the moon.
Scientists had initially estimated a temperature range of 20 to 30 degrees Celsius on the surface where Chandrayaan 3 had successfully landed and commenced its experiments. However, the recorded temperature of 70-degree Celsius has surpassed these expectations, prompting the scientific community to delve deeper into the moon's climatic conditions.
Isro scientist BH Darukesha, while speaking to news agency PTI, remarked, "We all believed that the temperature could be somewhere around 20-degree centigrade to 30-degree centigrade on the surface but it is 70-degree centigrade. This is surprisingly higher than what we had expected."
This temperature variance on the lunar surface, particularly around the south pole, ranges from a scorching 70 degrees Celsius to a chilling minus 10 degrees Celsius. This new information has piqued the interest of the global scientific community, thanks to the data collected by Isro's Chandrayaan 3.
The temperature variations have been represented graphically by Isro. According to the graph, the Vikram payload measured the temperature at various depths. The lunar surface temperature remains around 50 degrees Celsius, increasing to over 60 degrees at a height of 20mm. Remarkably, at a depth of -80mm beneath the lunar surface, the temperature drops significantly to a frigid minus 10 degrees Celsius.
These measurements were conducted during the lunar day, considering that one lunar day is still ongoing. It's noteworthy that the south pole of the moon, chosen as the landing site for Chandrayaan 3, is less illuminated by the Sun. Isro chairman S Somnath previously explained that this factor influenced the selection of the south pole for the soft landing of Chandrayaan 3.
The unexpected findings from Chandrayaan 3's initial data have ignited fresh curiosity about the moon's surface and its unique climate characteristics, prompting scientists to delve deeper into these revelations for a better understanding of lunar conditions.
Sources By Agencies