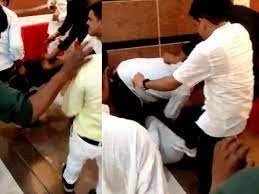 In a dramatic turn of events, a shoe was hurled at senior Samajwadi Party (SP) leader Swami Prasad Maurya by an individual dressed as a lawyer during a party event in Lucknow. Fortunately, the shoe missed its mark, narrowly avoiding Mr. Maurya. However, the accused, identified as Akash Saini, faced the wrath of party workers who swiftly overpowered and assaulted him. Videos of the incident depict SP workers confronting the accused while police personnel look on.
The altercation occurred at the Samajwadi Party's convention at the Indira Gandhi Pratishthan, where party president Akhilesh Yadav was scheduled to deliver a speech. The swift intervention by party workers led to Akash Saini being apprehended and subsequently taken to a hospital for medical treatment.
Assistant Commissioner of Police (Lucknow) Aniandy Vikram Singh commented on the incident, stating, "The accused has been taken to a hospital and further details will be known after questioning him." The encounter reflects the heightened tensions in the political environment.
Samajwadi Party president Akhilesh Yadav took to social media, alluding to the incident and referencing a previous ink-throwing incident involving a BJP member. He wrote, "When the person who threw ink in Ghosi himself told that this work was done by BJP people, then what more to say now."
Swami Prasad Maurya, a significant leader representing the Other Backward Classes (OBC) in Uttar Pradesh, had defected from the Bharatiya Janata Party (BJP) to join the Samajwadi Party shortly before the 2022 state assembly elections. The 69-year-old leader had recently stirred controversy with his remarks about the Hindu epic Ramcharitmanas. Maurya asserted that specific portions of Ramcharitmanas are disparaging towards particular castes and should be banned, a stance that garnered criticism from various quarters.
The incident showcases the intensifying political atmosphere and the emotions that often accompany such events in the state of Uttar Pradesh, a prominent player in Indian politics.
Sources By Agencies