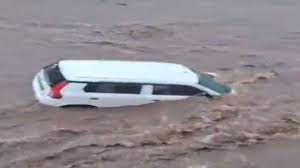 The recent heavy rainfall in Gujarat has wreaked havoc, causing floods in several districts and leading to emergency response measures to help stranded residents. Visuals on social media depict the alarming scenes of waterlogged roads in Navsari and Junagadh, with reports indicating that weekend traffic has been severely affected in the region.
In Junagadh, the situation has turned dire, with several cars being swept away by the strong currents of the overflowing water. The districts of Dwarka, Bhavnagar, and Bharuch have also experienced intense downpours, with rain continuously lashing the area from 8.30 am to 4 pm.
The state emergency operation centre in Gandhinagar has reported that Navsari bore the brunt of the deluge, receiving the highest amount of rainfall at a staggering 303 mm. Meanwhile, Junagadh recorded 219 mm of rainfall, contributing to the rising water levels in the region.
The India Meteorological Department (IMD) has issued a warning of "very heavy rainfall" expected in Saurashtra and Kutch regions on July 24. The IMD has also cautioned the public to avoid areas prone to water accumulation and vulnerable structures during such weather conditions.
Gujarat, on July 23 and 24, can expect heavy to very heavy rainfall ranging from 115 mm to 204 mm, according to the latest forecast from the weather office. The situation has triggered concern among authorities as they grapple with the increasing floodwaters.
Neighboring Maharashtra is also facing the impact of heavy rainfall, with tragic consequences. In Raigad district, a devastating landslide at Irshalwadi hamlet has claimed the lives of twenty-six people. The rescue teams, including the National Disaster Response Force (NDRF) and other government agencies, are working tirelessly to search for survivors and clear debris from the landslide site.
The operation, which has entered its third day, is proving to be challenging due to the hilly terrain and lack of paved roads in the landslide-hit village, making it difficult for bulldozers and excavators to maneuver.
The severity of the situation has prompted calls for caution and preparedness during this monsoon season. Both Gujarat and Maharashtra are closely monitoring the weather conditions and taking necessary precautions to mitigate the impact of heavy rainfall.
The safety of residents remains a top priority as rescue teams continue their tireless efforts in the affected areas. Authorities are urging the public to stay informed about weather updates and adhere to safety guidelines to minimize risks during this period of intense rainfall and potential flooding.
Sources By Agencies