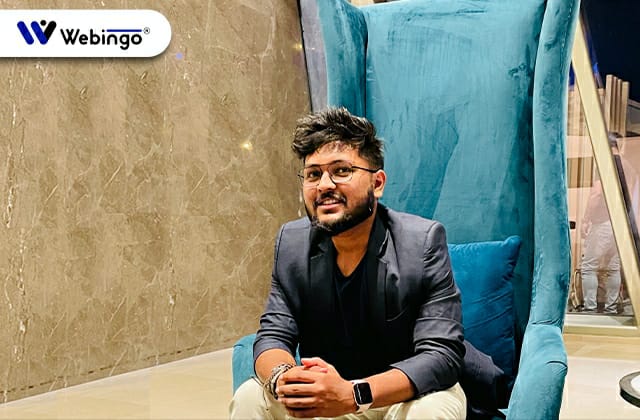 "Webingo" is an IT solutions company based in Kolkata, Co-Founded by Rishav Sadhu. As the development of the Indian IT Industry is seeing its all-time high boom it has led to the creation of more than 10000 startups that have been amalgamating technology in their processes. This resulted in a rise in the need for IT Solutions companies that can effectively lend a hand in enhancing the credibility of startups in this digital world. Seeing the potential of the market and the need of the hour Rishav Sadhu started his endeavor 'Webingo' and decided to make a name in the realm of IT Solutions with his advanced and productive approaches. Webingo's well thought and applied services provide the best in website development, mobile app development, software development, digital marketing, graphic designing, SEO services, and other end-to-end IT services.
For more than a year, Webingo ran as an unregistered firm, but under the expertise of Rishav, it got an opportunity to serve DRDO India. Later on, they got incubated under NASSCOM 10000 Startups Warehouse Kolkata. Webingo has also received business awards from reputed organizations as 'The fastest growing IT Startup in Kolkata'. Their clientele list includes renowned organizations like DRDO, Jharkhand Govt, West Bengal Govt, Nasscom, Techno India Group, and many more. From its SEO services to web development techniques the young entrepreneur's endeavor is already on the rise to the skies.
In the last decade, Indian IT companies have made many services available to the common citizens and moved them online. Being one of the best web development companies in Kolkata, Webingo is on its way to becoming the trail-blazer on this journey of helping brands and companies position themselves in the ever-growing digital market. And it can be said with no doubt that with Rishav's guidance and vision Webingo will soon leave a mark in the industry.
He states that "No other industry segment has generated as many jobs for the middle class. The sector directly employs over four million people and indirectly supports a further 12 million jobs. The industry was also a serious trigger for the govt. to push for a rise within the output of engineering colleges to over 700,000 graduates a year. We are extremely delighted that being a neighbourhood of this industry, we've somewhere also been a harbinger of collective growth."
Under the expertise of Rishav, Webingo 'The fastest growing IT startup in Kolkata' is all set to revolutionize the IT industry of India with its ambitious plans and solutions for the betterment of the industry and therefore the country.
Facebook = https://www.facebook.com/Rishavrockss/
Instagram = https://www.instagram.com/this_is_rishi/
LinkedIn = https://www.linkedin.com/in/rishav-sadhu-957382142/
Website = https://www.webingo.in/