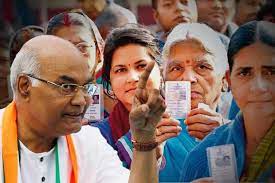 A committee led by former President Ram Nath Kovind has been established to explore the feasibility of implementing a "one nation, one election" system in India. This significant development signals a step forward in a long-debated proposal that has been a topic of discussion in multiple panels over the years.
The announcement of this committee comes shortly after the central government declared a special session of parliament scheduled from September 18 to 22, without specifying the agenda. While there is speculation that a bill related to "one nation, one election" might be presented during this session, no official confirmation has been provided by the government.
"One nation, one election" involves the simultaneous conduct of Lok Sabha (national) and state assembly elections across the country, a practice that was the norm during the initial rounds of elections in India. The Bharatiya Janata Party (BJP) and Prime Minister Narendra Modi have expressed support for this concept on several occasions, including in the BJP's 2014 Lok Sabha election manifesto.
Historically, elections were held simultaneously in India until 1967, with four such elections taking place. However, this practice was interrupted when some state assemblies were dissolved prematurely in 1968-69. The Lok Sabha was also dissolved ahead of schedule for the first time in 1970, leading to mid-term elections in 1971.
In its 2014 Lok Sabha Election Manifesto, the BJP pledged to work on electoral reforms to eliminate criminal influences. Additionally, it promised to explore a method for conducting assembly and Lok Sabha elections simultaneously. This approach was seen as a way to reduce election expenses for political parties and the government while providing greater stability to state governments.
Prime Minister Modi has raised the issue of simultaneous elections multiple times, citing the burden they place on the nation's resources and the disruption they cause to governance.
Experts suggest that turning the "one nation, one election" proposal into reality would require a constitutional amendment and the support of two-thirds of the members in both the Lok Sabha and Rajya Sabha. With assembly elections scheduled in five states in the coming months and Lok Sabha elections expected around May next year, this topic remains a subject of debate and discussion in Indian politics.
In response to the formation of the committee, D Raja, General Secretary of the Communist Party of India, commented that the BJP has exhibited an obsession with various "one nation" concepts, highlighting their focus on centralization and uniformity in various aspects of governance.
The committee's deliberations will shed light on whether India will transition to a "one nation, one election" system, which could have far-reaching implications for the country's political landscape and electoral processes.
Sources By Agencies