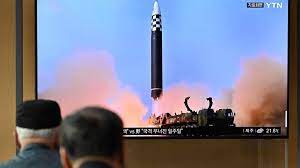 In a worrisome development, North Korea has fired an unidentified ballistic missile into the East Sea, according to South Korea's military. The launch comes shortly after Pyongyang issued a threat to shoot down US spy planes trespassing into its airspace. Relations between the two Koreas have reached a new low, with diplomacy at a standstill. North Korean leader Kim Jong Un has declared his nation an "irreversible" nuclear state, emphasizing the need for increased weapons development, including tactical nuclear capabilities.
The Joint Chiefs of Staff in Seoul confirmed the missile launch, which adds to the already heightened tensions in the region. The missile was fired towards the East Sea, also known as the Sea of Japan. The current situation underscores the fragile state of affairs between North and South Korea, with diplomatic efforts stalling and the threat of North Korea's nuclear ambitions looming large.
In response to North Korea's provocations, both Seoul and Washington have vowed that any use of nuclear weapons by Pyongyang would be met with a nuclear response and the potential end of the current North Korean government. The tensions escalated further on Monday when North Korea accused a US spy aircraft of violating its airspace and condemned the US plan to deploy a nuclear missile submarine near the Korean peninsula.
The North Korean Ministry of National Defence accused the United States of intensifying its espionage activities beyond wartime levels, citing a series of "provocative" flights by US spy aircraft over the East Sea in recent days. The statement warned of potential accidents and called attention to the risk of downing a US Air Force reconnaissance plane in the region.
Kim Yo Jong, the influential sister of Kim Jong Un, also criticized the US for violating North Korean airspace. She declared that the North would not directly respond to US reconnaissance activities outside its exclusive economic zone but cautioned that decisive action would be taken if the US military crossed its maritime military demarcation line.
North Korea's repeated missile launches, including its recent test-firing of a powerful intercontinental ballistic missile and an attempted satellite launch, have defied international sanctions. In response, South Korean President Yoon Suk Yeol has strengthened defense cooperation with the US, conducting joint military exercises involving advanced stealth jets and powerful strategic assets.
President Yoon is expected to attend a NATO summit in Lithuania to seek increased cooperation from alliance members in addressing the growing nuclear and missile threats posed by North Korea. Meanwhile, South Korea and the United States are preparing to initiate their annual joint military exercises, known as Ulchi Freedom Shield, next month.
North Korea views these joint exercises as rehearsals for invasion and has described them as "frantic" drills simulating an all-out war against Pyongyang. As tensions escalate, the international community remains concerned about the stability of the region and the potential consequences of further provocations.
The situation calls for renewed efforts to restart diplomatic dialogue and find a peaceful resolution to the North Korean nuclear issue. The international community must work together to de-escalate tensions and foster an environment conducive to dialogue, aiming to ensure peace and stability in Northeast Asia.
Sources By Agencies