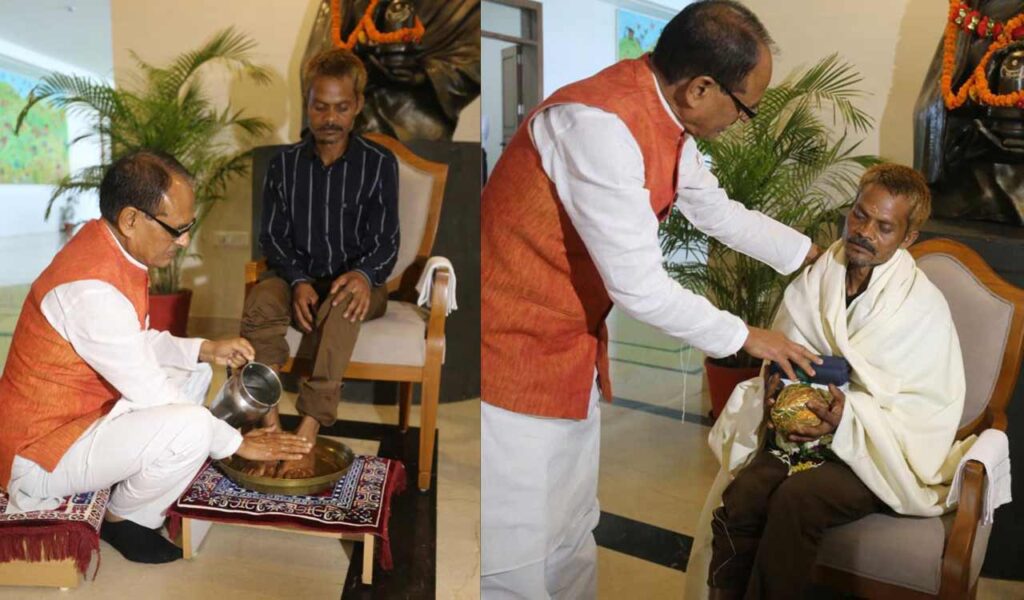 Bhopal, Madhya Pradesh – In a gesture of remorse and solidarity, Madhya Pradesh Chief Minister Shivraj Singh Chouhan met with Dashmat Rawat, the victim of the Sidhi pee case, and washed his feet at the CM House in Bhopal. The incident, which occurred in Sidhi district, had caused widespread outrage after a video of accused Pravesh Shukla urinating on Rawat, a tribal youth, went viral on social media.
Expressing his anguish, Chief Minister Chouhan apologized to Rawat, stating, "I was pained to see that video. I apologize to you. People are like a God to me." The act of washing Rawat's feet was a symbol of contrition and recognition of the dignity and equality of every citizen.
Following the video's circulation and public outcry, the accused, Pravesh Shukla, was promptly arrested on Wednesday. He was then subjected to a medical examination as part of the ongoing investigation. On the orders of Chief Minister Chouhan, Shukla's house was demolished by the authorities. A case has been registered against him at Bahari police station under Indian Penal Code sections 294 (obscene acts) and 504 (intentional insult to provoke a breach of peace), along with provisions of the Scheduled Castes and Scheduled Tribes (Prevention of Atrocities) Act.
Additionally, the authorities have initiated action against Pravesh Shukla under the stringent National Security Act. The Congress party has alleged that Shukla has connections with prominent BJP leaders, although the Bharatiya Janata Party has refuted these claims.
In response to the incident, opposition parties, including the Congress and the BSP, called for the BJP-led government in Madhya Pradesh to use a bulldozer to demolish Shukla's properties. Congress MLA Kamleshwar Patel from the Sihawal constituency in Sidhi district visited the victim's village and launched an indefinite protest demanding justice.
Former Madhya Pradesh Congress president Kantilal Bhuria criticized the accused BJP leader, Pravesh Shukla, claiming that he had coerced the victim into submitting an affidavit stating that no case should be registered against him. Bhuria further urged the state government to transfer the investigation to the Central Bureau of Investigation (CBI) and suggested that the case be heard in a non-BJP state to ensure impartiality.
In light of the incident's gravity and the need for swift action, Bhuria also demanded that the victim's family receive compensation of Rs 2 crore and that two members of the family be offered government jobs.
The Sidhi pee case has drawn attention to the importance of upholding the rights and dignity of every individual, regardless of their background or community. It remains to be seen how the investigation progresses and what further actions will be taken to ensure justice for Dashmat Rawat and prevent such incidents from recurring in the future.
Sources By Agencies