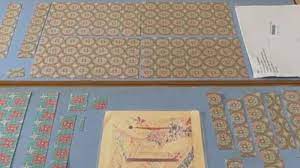 Over 13,800 LSD blots have been seized in a significant drug bust conducted by the Narcotics Control Bureau (NCB) in the National Capital Region (NCR). Three individuals have been arrested in connection with the operation, which targeted a pan Indian LSD drug cartel named "Zambada." This cartel, operating on the darknet, is the only Indian LSD cartel rated "five stars" by traffickers and consumers.
The NCB's crackdown on Zambada comes as part of an ongoing investigation into another cartel that was busted two months ago. The agency had previously arrested six people and seized around 14,962 LSD blots in that operation, making it the highest seizure of the drug in India at the time.
The Zambada cartel was identified through continued operations, and the mastermind was located in Ballabhgarh (Faridabad). The arrests and raids conducted by NCB teams led to the further seizure of 13,863 LSD blots and 428 grams of MDMA. The cartel's total drug value has not been immediately disclosed.
According to Gyaneshwar Singh, the NCB deputy director-general, darknet-based drug cartels are rated on a scale of "one star to five stars" based on the potency of the drugs they sell and their customer service. The Zambada cartel comprised young educated men aged between 21 to 25 years, drawn into drug dealing due to the allure of easy money and the anonymity offered by darknet operations.
Notably, various web series on OTT platforms inspired their mode of operations, and they named the cartel after Ismael-Marlo Zambada Garcia, a Mexican drug lord who remains one of Mexico's 37 most wanted drug lords with a substantial reward on his head.
LSD, a potent hallucinogenic drug, is challenging for enforcement agencies to detect as it can be easily concealed and comes in the size of a common postal stamp. Each LSD blot costs between ₹4,000 to ₹8,000 depending on the quality of paper, thickness, and brand name.
The NCB highlights that the consumption of LSD has become popular in India, especially among youth and students. The agency continues to intensify efforts to curb the spread of such dangerous substances and dismantle drug cartels operating on the darknet.
Sources By Agencies