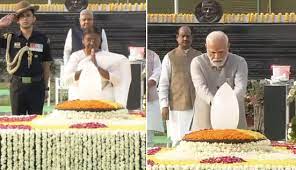 Leaders from across the political spectrum came together to commemorate the 5th death anniversary of Bharatiya Janata Party stalwart and former Prime Minister Atal Bihari Vajpayee. Prime Minister Narendra Modi, President Droupadi Murmu, and several other prominent figures paid their floral tributes at the Sadaiv Atal memorial.
In a heartfelt tweet, Prime Minister Modi lauded Atal Bihari Vajpayee's leadership, which had a profound impact on India's growth and development. He recognized Vajpayee's significant role in steering the nation's progress and ushering it into the 21st century across various sectors.
"I join the 140 crore people of India in paying homage to the remarkable Atal Ji on his Punya Tithi. India benefited greatly from his leadership. He played a pivotal role in boosting our nation's progress and in taking it to the 21st century in a wide range of sectors," PM Modi's tweet read.
Prominent leaders including Vice President Jagdeep Dhankhar, Defence Minister Rajnath Singh, Home Minister Amit Shah, Nitin Gadkari, Praful Patel, and Anupriya Patel of Apna Dal (Soneylal) were among those who paid their respects to the former prime minister.
Home Minister Amit Shah acknowledged Atal Bihari Vajpayee's contribution to establishing a foundation of effective governance in the country. Rajnath Singh, sharing his visit to the Sadaiv Atal memorial on social media, recognized Vajpayee's enduring legacy.
Atal Bihari Vajpayee, born on December 25, 1924, was the first non-Congress Prime Minister to complete a full term in office. He held the position of Prime Minister twice – from May 16, 1996, to June 1, 1996, and from March 19, 1998, to May 22, 2004.
Vajpayee's birth anniversary, December 25, is observed as Good Governance Day annually. The visionary leader passed away on August 16, 2018, at the age of 93, leaving behind a lasting legacy that continues to influence Indian politics and society.
Sources By Agencies