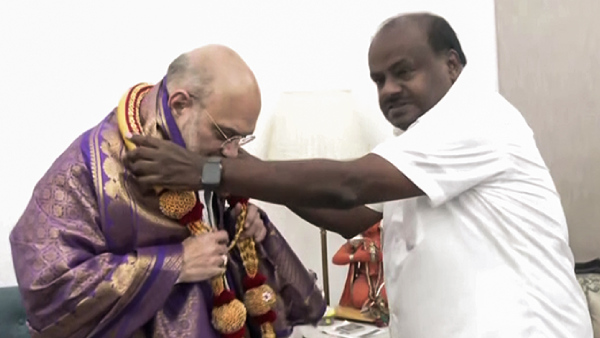 In a major political development, the Janata Dal (Secular) (JDS) has announced its alliance with the BJP-led National Democratic Alliance (NDA) as part of preparations for the upcoming general election. The announcement was made after senior JDS leader and former Karnataka Chief Minister HD Kumaraswamy held discussions with Union Home Minister Amit Shah and BJP President JP Nadda in Delhi.
While no specific details about seat-sharing in Karnataka have been revealed thus far, Kumaraswamy indicated that discussions on this topic would continue. A photograph shared by JP Nadda on social media showed the leaders engaged in discussions, emphasizing the significance of this political collaboration.
Expressing his satisfaction with the JDS joining the NDA, JP Nadda stated, "I am happy JDS has decided to be part of National Democratic Alliance. We wholeheartedly welcome them. This will strengthen NDA and the vision of PM Narendra Modi for 'New India, Strong India'."
The move comes after JDS patriarch HD Deve Gowda initiated talks with senior BJP leaders in Delhi, emphasizing that his aim was to safeguard the party rather than vie for the Prime Minister's position. Kumaraswamy added that more details about the alliance would be revealed after Ganesh Chaturthi.
There had been speculation regarding the number of seats allocated to JDS in the Old Mysuru region, where the BJP faced challenges in the previous Assembly election. The JDS and BJP had previously formed a government together in 2007, although it collapsed after 20 months due to disagreements over power-sharing.
In the 2019 Lok Sabha election, the JDS secured only one seat and a modest share of the votes. However, in the recent Assembly election held earlier this year, it improved its performance, winning approximately 14 percent of the votes and 19 seats. This alliance is expected to have implications for the upcoming general election in Karnataka, and the JDS' influence among Vokkalinga voters may play a crucial role in the state's political landscape.
Sources By Agencies