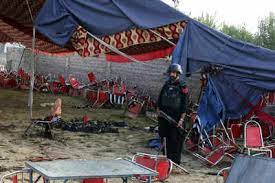 In a devastating act of violence, a suicide bombing at a political convention in Khar, Khyber Pakhtunkhwa province, Pakistan, has claimed the lives of at least 44 people and left over 100 others injured. The targeted gathering was of the conservative Jamiat Ulema Islam-Fazl (JUI-F) party, known for its affiliations with hardline political Islam. The attack has been linked to the banned terrorist group ISIS, and authorities are conducting a thorough investigation to bring the perpetrators to justice.
The attack took place on a tragic Sunday morning when more than 400 members of the JUI-F party had assembled under a canopy in the town of Khar, which shares a border with Afghanistan. According to the police, the suicide bomber, believed to be affiliated with ISIS, was among the attendees seated in the front rows of the convention. The perpetrator detonated approximately 10 kilograms of explosives, causing chaos and devastation.
Among the casualties were prominent figures within the JUI-F party, including Tehsil Khar Maulana Ziaullah Jan, Navagai Tehsil General Secretary Maulana Hameedullah, and District Information Secretary Mujahid Khan, alongside dozens of party workers. The district hospitals of Bajaur and adjoining areas declared an emergency due to the high number of injured individuals, with critically wounded victims being airlifted to Peshawar by military helicopters.
Prime Minister Shehbaz Sharif expressed his condolences and vowed to bring those responsible to justice, emphasizing that the Pakistani nation and its law enforcement agencies will not allow cowardly tactics to succeed. President Arif Alvi also prayed for the departed souls and urged timely medical assistance for the injured.
Witnesses recounted the horrific scene of the attack, with hundreds of people attending the convention when the explosion occurred. The immediate aftermath was marked by chaos, screams, and gunfire. Rescue efforts were hindered by the extent of injuries, with human flesh and body parts scattered throughout the area.
The JUI-F chief, Maulana Fazlur Rehman, mourned the loss of lives and called for an inquiry into the attack. He appealed to JUI-F workers to provide blood donations for the injured.
This tragic incident underscores the rising threat of terrorism in Pakistan, particularly in Khyber Pakhtunkhwa province, following the Taliban's return to power in neighboring Afghanistan. The authorities are urged to prioritize efforts to eliminate terrorism and enhance security measures to safeguard public gatherings and events.
Pakistan continues to mourn the loss of innocent lives and stands united against terrorism, with the hope of bringing the culprits to justice and preventing further acts of violence.
Sources By Agencies