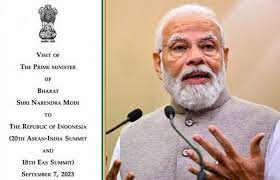 Amidst the ongoing debate over whether to officially rename India as "Bharat," a fresh controversy has arisen, this time involving a document referring to Prime Minister Narendra Modi as the "Prime Minister of Bharat." This development follows the recent dinner invitation extended to G20 leaders by President Droupadi Murmu, which used the term "President of Bharat" instead of the conventional "President of India."
The note in question pertains to Prime Minister Modi's visit to Indonesia for the 20th ASEAN-India Summit and the 18th East Asia Summit. It prominently features the term "Prime Minister of Bharat." The document's circulation on X (formerly Twitter) by BJP National Spokesperson Sambit Patra quickly drew attention and sparked a heated political debate.
The Congress party was swift to respond, pointing out the apparent inconsistency in using both "ASEAN-India Summit" and "Prime Minister of Bharat" in the same document. Congress General Secretary Jairam Ramesh, commenting on the situation, remarked, "Look at how confused the Modi government is! The Prime Minister of Bharat at the 20th ASEAN-India summit. All this drama just because the Opposition got together and called itself INDIA."
The controversy has its roots in the recent invitation from the President to G20 leaders, where the country's name was mentioned as "Bharat – Official." This move has led to speculation and debate about a potential name change for the country, particularly during the upcoming special session of Parliament from September 18-22. The government's silence on the agenda for this session has only fueled speculation further.
The opposition parties have linked this possible name change to their 28-party alliance, which goes by the name "INDIA." Delhi Chief Minister Arvind Kejriwal has raised questions about how the government would respond if the bloc decided to rename itself "Bharat." He emphasized that the country belongs to 140 crore people and not just one party, implying that such decisions should be made collectively.
While some BJP leaders have welcomed the usage of "Bharat," the debate remains highly politicized. Assam Chief Minister Himanta Biswa Sarma expressed pride in the term "REPUBLIC OF BHARAT" and highlighted the nation's rich heritage. BJP President JP Nadda criticized the Congress for objecting to issues related to the nation's honor and pride.
As the debate rages on, the country awaits further developments and clarification from the government regarding any potential name change for India.
Sources By Agencies