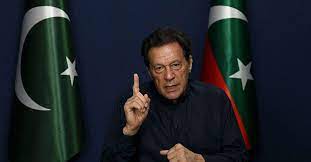 In a dramatic turn of events, the arrest and imprisonment of Pakistan Tehreek-e-Insaf (PTI) chairman Imran Khan has ignited a flurry of concerns over his safety and the conditions he is facing behind bars. PTI's vice chairman, Shah Mahmood Qureshi, alleges that Khan's life is at risk and claims that he is not being provided meals in his "C-Class" cell. The unfolding situation has prompted sharp criticism and demands for accountability from PTI leaders, shedding light on a potentially contentious chapter in Pakistan's political narrative.
Shah Mahmood Qureshi, the vice chairman of PTI, voiced his apprehensions on Sunday, stating that Imran Khan's life is in danger and that the jail authorities have failed to ensure his basic needs, including meals. Qureshi claimed that lawyers have been denied access to Khan while he is incarcerated.
Qureshi further disclosed that upon receiving the arrest order from the IG Islamabad, Lahore police promptly descended upon Imran Khan's residence in Zaman Park to effect his arrest. Although the court directed Khan's confinement to Adiala Jail, he was reportedly transferred to Attock Jail, where he alleges "B Class" facilities are not provided.
Highlighting the irregularities in Khan's detention, Qureshi criticized the lack of access to medical examination. He pointed out that Khan was not taken to the Poly Clinic's medical board, a mandatory right for every inmate, and the responsibility of the jail administration. Qureshi also lamented the absence of legal recourse due to Khan's inability to sign the power of attorney, hindering any potential appeals for his release.
The controversial situation arose from the verdict in the Toshakhana case, which found Imran Khan guilty of "corrupt practices." He was subsequently sentenced to three years in prison and fined PKR 100,000. Additionally, the court declared him ineligible to hold public office for five years.
As the news of Khan's arrest reverberates through Pakistan's political circles, questions about the conditions and safety of his detention have come to the forefront. With PTI leaders demanding action and accountability, the situation is likely to draw increased attention, shaping the ongoing discourse around the country's governance and justice system.
Sources By Agencies