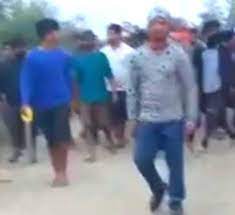 In a shocking incident that has sparked national outrage, a distressing video from Manipur showing two women being paraded naked and molested by a group of men has gone viral on Twitter. The incident occurred on May 4, following clashes between the valley-majority Meitei and the hill-majority Kuki tribe in Manipur, resulting from the Meiteis' demand for Scheduled Tribes (ST) status.
As the video continued to circulate on the social media platform, the Indian government has taken a serious stance on the issue. The Ministry of Electronics and Information Technology has warned social media platforms, including Twitter, about compliance with the new IT rules that emphasize freedom of expression but within "reasonable restrictions." The government firmly states that the circulation of videos that may incite law and order problems is not permitted under law.
Consequently, an order initiating action against Twitter for non-compliance was issued, with the IT ministry working across platforms to ensure the video is not further disseminated. The government's proactive approach aims to prevent potential unrest and backlash resulting from the circulation of such graphic content.
Authorities are taking the matter seriously, and swift action has been taken in apprehending one of the individuals seen in the video after it went viral on social media. The police are diligently working to identify and arrest the remaining perpetrators involved in the shocking incident. The two survivors of the gang-rape came forward to report the crime nearly 15 days after the assault occurred. The police have been following leads and are confident of arresting the remaining culprits soon.
Manipur Chief Minister N Biren Singh has ordered a thorough investigation into the case, making it a priority to bring the perpetrators to justice. As the incident sparked debates in parliament during the ongoing monsoon session, opposition parties targeted the ruling Bharatiya Janata Party (BJP) in Manipur, holding them accountable for the escalating violence in the region.
In response to the public outcry, Prime Minister Narendra Modi expressed anguish and anger over the horrific video. He assured the nation that no one involved in this heinous act would be spared, and strict action would be taken according to the law. PM Modi emphasized that such atrocities against the women of Manipur could never be forgiven.
The Manipur video has ignited widespread condemnation, demanding justice for the victims and measures to prevent further such incidents. As authorities work diligently to address the situation, the nation waits to witness whether Twitter will comply with the government's demands and take adequate measures to prevent the circulation of disturbing content in the future. The incident serves as a stark reminder of the urgency to protect vulnerable communities and uphold the principles of law and order in the digital age.
Sources By Agencies