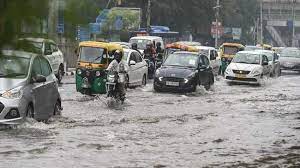 Himachal Pradesh is grappling with the aftermath of unrelenting rain, leading to landslides, building collapses, and widespread disruptions across the region. The Indian Meteorological Department (IMD) has issued a red alert, predicting heavy to extremely heavy rainfall in six districts, exacerbating the challenges faced by the state. The onslaught of continuous rain has prompted concerns about safety, infrastructure, and the well-being of residents.
The situation in Himachal Pradesh has become increasingly precarious, with nearly 700 roads blocked by landslides, including critical national highways such as the ones connecting Kullu-Mandi, Mandi-Pathankot, Kalka-Shimla, and Theog-Hatkoti. The impact has been substantial, leaving communities stranded and disrupting essential transportation networks.
The devastating effects of the rain are evident, as buildings have collapsed, and landslides have led to tragic loss of life. In Anni, Kullu district, buildings have crumbled under the weight of the incessant rainfall. Additionally, landslides have claimed lives, and one more body was discovered at the site of a landslide near the Shiv temple in Shimla. The recovery process has been ongoing, with 25 bodies retrieved from debris in different areas of Shimla, including Summer Hill, Fagli, and Krishnanagar.
The state's authorities are working diligently to mitigate the impacts, but challenges persist. The heavy landslip near Pandoh has significantly impacted the Mandi-Kullu National Highway, necessitating relief camps to support those affected by the disruption. The residents of Shimla are grappling with the aftermath of the rain, as roads remain closed at multiple sites in the town, causing distress and hindering daily life.
Himachal Pradesh has experienced a series of heavy rain spells this monsoon season, each leaving a trail of destruction in its wake. The first deluge occurred on July 9 and 10, resulting in extensive damage in Mandi and Kullu districts. The second spell hit Shimla and Solan districts on August 14 and 15, followed by a third destructive spell on a recent Tuesday night, leaving Shimla city in ruins.
As the state faces the ongoing challenges posed by heavy rains, the safety of residents, infrastructure recovery, and restoration of normalcy remain the top priorities. The situation emphasizes the need for proactive measures and resilient infrastructure to address the impact of extreme weather events in the region.
Sources By Agencies