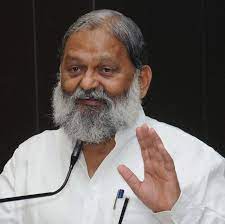 Haryana's Home Minister, Anil Vij, has accused the opposition Congress party of being behind the recent communal clashes in Nuh and its adjoining areas, which resulted in the tragic loss of six lives. Speaking at a press conference, Vij stated that initial investigations suggest Congress's role in the violence. He also revealed that the police have apprehended around 510 individuals and filed 130-140 First Information Reports (FIRs) in connection with the case.
Vij further pointed to evidence that allegedly links Congress MLA Mamman Khan to the areas where the violence transpired. He announced that Khan has been summoned for police interrogation on August 30.
"In the initial investigation, we have arrested approximately 510 people and we have registered 130-140 FIRs. After their interrogation, the conclusion that we are getting for now is that it looks like this has been done by Congress. In this Congress's MLA Mamman Khan has also been called for interrogation by police on August 30," he stated.
Meanwhile, Chief Minister Manohar Lal Khattar took a swipe at the Congress party, urging them to break their silence on Khan's alleged involvement in the clashes. Khattar highlighted that one of the Congress MLAs has already received a notice from the police, and suspicions have been raised about the roles of several other MLAs from the party in relation to the violence.
"Surprisingly, Congress has adopted silence and is not saying anything. Despite these grave allegations, the Congress party has maintained a silence. The absence of a response from them certainly proves that 'dal mai kuch kala hai' (something is suspicious)," Khattar commented after the proceedings in the state assembly concluded.
The communal clashes erupted in Nuh and its neighboring regions after a Vishva Hindu Parishad (VHP) procession was attacked by a mob on July 31. This tragic incident resulted in the death of six individuals, including two home guards and a cleric.
As the investigation progresses and accusations fly, the state remains tense while authorities attempt to ascertain the truth behind the violence and its alleged political connections.
Sources By Agencies