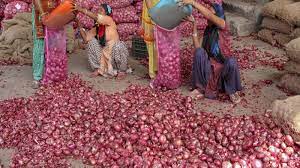 The Indian government has taken steps to allay tensions as Asia's largest onion market, located in Nashik, Maharashtra, remained closed for the second consecutive day in protest of the newly imposed 40% export duty on onions. Union Commerce Minister Piyush Goyal has assured farmers and traders that the government has commenced purchasing unsold onion stocks at an unprecedented rate of ₹2,410 per quintal, with plans to acquire an additional two lakh tonnes to bolster buffer stocks, in addition to the already procured three lakh tonnes.
Union Commerce Minister Piyush Goyal addressed the concerns at a press briefing, criticizing political opponents for disseminating misinformation about export curbs. He appealed to onion-producing state farmers not to engage in panic selling, highlighting that the National Cooperative Consumers' Federation (NCCF) and National Agricultural Cooperative Marketing Federation of India (NAFED) have been instructed to participate in the onion procurement process.
Maharashtra Agriculture Minister Dhananjay Munde corroborated the collaboration efforts, stating that the decision to purchase onions at an elevated rate was made after discussions with deputy chief ministers Ajit Pawar and Devendra Fadnavis.
The recent protests in Nashik have halted onion auctions at all Agriculture Produce Market Committees (APMCs), including Lasalgaon, India's largest wholesale onion market. The onion traders' association in Nashik vehemently expressed its disapproval of the 40% export duty and announced a boycott of onion auctions until the government rescinds the duty.
Farmers' concerns revolve around adverse weather conditions that have severely impacted nearly half of their onion produce. They criticize the government for not intervening during times of distress and assert that the cost of cultivation is substantially higher than the prevailing rates. Some farmers express their dissatisfaction with relying solely on NAFED for selling their produce.
The export duty, effective until December 31, aims to curtail outward shipments and bolster local onion availability. Additionally, the government plans to raise buffer stocks from three lakh tonnes to five lakh tonnes for the 2023-24 season.
The government's intervention aims to strike a balance between addressing farmers' concerns and stabilizing onion prices in the domestic market, as the nation navigates the complexities of agricultural policies and market dynamics.
Sources By Agencies