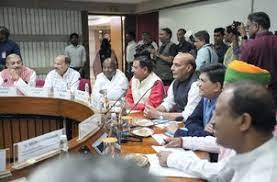 Leaders from various ruling and opposition parties in India have come together to strongly advocate for the passage of the long-pending women's reservation bill during the upcoming five-day Parliament session.
At an all-party meeting held on Sunday, leaders from both sides of the political spectrum expressed their support for this crucial legislation. Congress leader Adhir Ranjan Chowdhury confirmed that all opposition parties are united in their demand for the bill's passage, signaling a rare display of consensus in India's diverse political landscape.
Praful Patel, a prominent leader from the Nationalist Congress Party (NCP) and a BJP ally in Maharashtra, emphasized that his party has urged the government to prioritize the women's reservation bill in this Parliament session. Patel also noted that Parliament will relocate to a new building on the auspicious occasion of Ganesh Chaturthi, which falls on September 19.
During the all-party meeting, regional parties such as the Biju Janata Dal (BJD) and the Bahujan Republican Socialist Party (BRS) played a pivotal role in advocating for the prompt introduction and passage of the women's reservation bill. Their support adds weight to the growing consensus on the necessity of this legislation.
Ahead of the meeting, Congress MP Pramod Tiwari outlined the key issues that his party intends to address during the session, including price inflation, unemployment, social conflicts, and the situation in Manipur. Leaders from various parties arrived at the Parliament House Complex to participate in the discussions.
Representing the government at the meeting were Defense Minister Rajnath Singh, Deputy Leader of the House in Lok Sabha; Union Minister Piyush Goyal, Leader of the House in Rajya Sabha; and Parliamentary Affairs Minister Pralhad Joshi.
The commitment of the BJD and BRS leaders to push for the introduction and passage of the women's reservation bill in the upcoming five-day session underscores the importance of this legislation in India's evolving political landscape.
Prominent leaders who attended the all-party meeting included Congress's Adhir Ranjan Chowdhury, former Prime Minister and JD(S) leader HD Deve Gowda, DMK's Kanimozhi, TDP's Ram Mohan Naidu, TMC's Derek O'Brien, AAP's Sanjay Singh, BJD's Sasmit Patra, BRS's K Keshava Rao, YSR Congress Party's V Vijayasai Reddy, RJD's Manoj Jha, JD(U)'s Anil Hegde, and SP's Ram Gopal Yadav.
The unified demand for the women's reservation bill reflects a momentous shift in India's political landscape, highlighting the pressing need for gender equality and representation in the country's legislative bodies.
Sources By Agencies